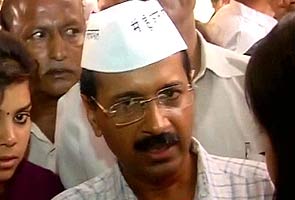 New Delhi:
Activist-turned-politician Arvind Kejriwal, who is also a former income tax (I-T) officer, has called the I-T inquiry into Mr Gadkari's businesses an eyewash.
Mr Kejriwal, who picked Mr Gadkari as his second target in an expose series and accused him of corruption a few days ago, tweeted this morning, "Co Affairs, IT Dept probing Gadkari? Govt - IT det wud submit report in a month. IT Act has no provision for such a probe. Govt fooling ppl? Under I-T Act - u can raid (sec 132) or survey (sec 133A) or scrutinize (sec 143) - wat is govt doing? (sic)"
In a series of tweets, he also said, "Will IT find anything if it raids or surveys? Raids conducted in secrecy. This is how CBI conducts raids after grand announcements. Are all these probes merely an eyewash? Time will tell. It wud further prove - cong BJP bhai bhai."
Both the income tax department and the ministry of company affairs have begun separate inquiries into Mr Gadkari's Purti group, set up in 2000, and into the companies that have invested in it.
The I-T department is looking into investments made in Purti Power and Sugar Ltd (PPSL); investments which have so far seemed murky and Mr Gadkari has not been able to explain convincingly. The I-T department will also probe the sources of the funds to PPSL as well as the 18 companies that invested in Purti.
The income tax probe is in addition to the initial inquiry or what is being called a "discreet probe" by the Ministry of Corporate Affairs into companies that have invested in the BJP president's businesses, sources have told NDTV.
Purti Power and Sugar Limited was set up a decade ago by Mr Gadkari. It has a matrix of 18 firms as its investors. As NDTV has been reporting, many of those firms share addresses which appear to exist only on paper. The NDTV expose also found that several shareholders in PPSL as well as other Purti companies were people employed by Mr Gadkari, including his part-time driver, an accountant as well as an astrologer. Mr Gadkari has denied any financial malpractices or ghost investors. He said, he "approached many people from society - industrialists, traders, businessmen, investors."
Mr Gadkari quit as chairman of Purti last year. He now owns just 200 shares in the company.