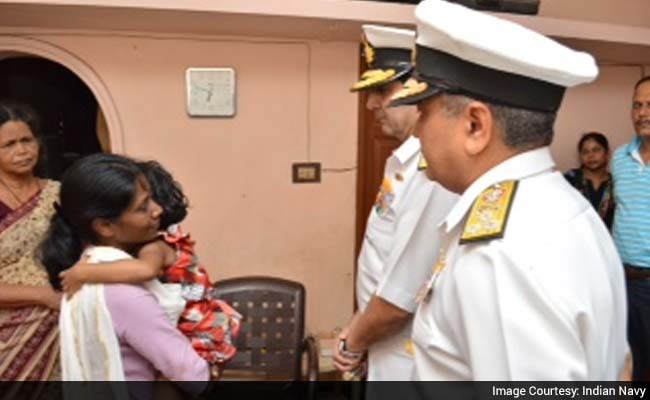 Visakhapatnam:
Navy Chief Admiral R K Dhowan on Sunday reviewed the search and rescue operation by the force to find four of its personnel, who are still missing after a torpedo recovery vessel sunk near Visakhapatnam four days ago.
Admiral Dhowan arrived on Sunday afternoon and reviewed the progress of the search and rescue operation. He also visited the bereaved family of sailor James Jacob and the family of another officer who is reported missing, the Navy said in a statement.
He also met the rescued crew of the ill-fated vessel before departing for New Delhi late in the evening. No missing personnel have been found till this evening, the statement said.
The search was going on in an area 120 nautical mile south-west of Visakhapatnam catering for the prevailing drift and currents, it said.
Several ships of the Eastern Fleet and a few aircraft including Boeing P8I, Dorniers, Sea King 42C and Chetak helicopters have been deployed to search for the missing personnel.
Naval authorities are also in constant touch with the families of three missing sailors, keeping them informed about the progress of SAR operations, it said.
A torpedo recovery vessel, with 29 personnel onboard, had sunk on Thursday night while on a "routine" mission to recover dummy torpedoes fired by the fleet's ships during a "routine" exercise.
Though 24 personnel were rescued safely by the fleet ships which reached the accident site promptly, one sailor James Jacob lost his life during the rescue operation and four personnel (one officer and three sailors) are still reported missing.