NEW DELHI:
A video of Naveed Jutt, the top Pakistani terrorist
who made a dramatic escape
from a hospital in Srinagar last month, has emerged. In this one, Naveed Jutt is seen in fatigues, a rifle in hand, walking up to a group of five armed terrorists sitting in a forested area.
Naveed alias Abu Hanzala, 22
, is accompanied by another terrorist and is seen in the video hugging local Hizbul Mujahideen commander Sameer Tiger and others.
Police sources told NDTV that the video appeared to have been shot somewhere in south Kashmir and
confirms police suspicions that the lines
between some terror groups were getting blurred.
Kashmir's top police officer Munir Ahmad Khan had earlier hinted at this trend when he had spoken about information that the Naveed Jutt and the Hizbul Mujahideen commanders were "working together".
Naveed Jutt's escape was seen as an indictment of the security protocol at the Srinagar central jail and had led to the unceremonious
ouster of the state's top prisons official SK Mishra
.
A probe into Naveed Jutt's escape had revealed that the plan to get the Pakistani terrorist released had been in the works for four months. Police believe the desperation to get the Lashkar commander out could have something to do with the success of security forces in eliminating the Lashkar's commanders Abu Qasim, Abu Dujana and Abu Ismail.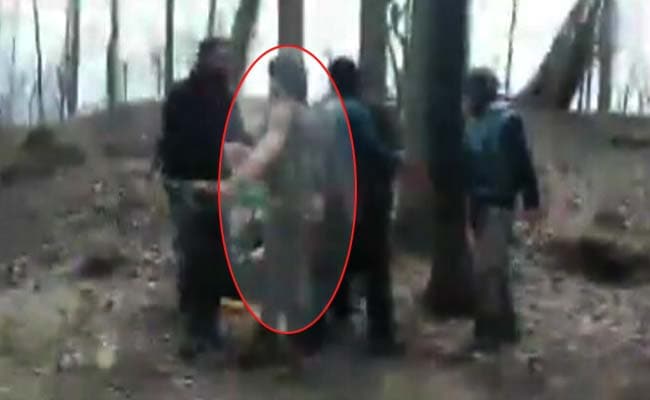 Police sources say Naveed Jutt's video was believed to have been shot in South Kashmir.
Jammu and Kashmir's police chief SP Vaid had told NDTV earlier that
the escape was planned
at Srinagar's central jail.
According to the sequence pieced by the police, as Naveed Jutt, along with five other prisoners, walked into the Out Patients' Department for a routine medical check-up on February 6, his accomplices opened fire. One of his accomplices even passed a gun to Naveed Jutt, who shot the accompanying policemen. One policeman died on the spot, another succumbed to injuries later in the hospital.
After that, Naveed Jutt and his accomplice Hilal Ahmed ran towards the parking lot, where a car and a motorcycle had been waiting. The three men escaped on the motor cycle, said the police officer.
Naveed, who was arrested in 2014, was involved in several terror attacks in Kashmir, including one in which a teacher on election duty was killed. He is also believed to be behind the killing of at least seven policemen, including three near a court house in Pulwama, about 36 km from Jammu and Kashmir capital Srinagar.
The terrorist, who also goes by the name Abu Hanzullah, is from Multan in Pakistan and was known to be close to Abu Qasim, who headed the terror group Lashkar-e-Taiba in Kashmir and was killed by security forces in 2015.