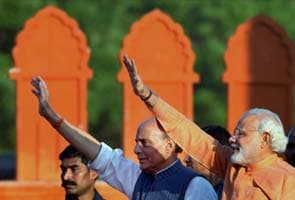 On his first visit to Tamil Nadu after he was appointed the BJP's prime ministerial candidate,
Narendra Modi
spoke in Tamil before switching to English and Hindi.
He also had a translator by his side through the one hour long address to about two lakh people gathered at the BJP's youth conference in Trichy, 350 Km from Chennai.
Mr Modi lashed out at the Congress-led government at the Centre. "Everyone is asking, are we so weak that our neighbours can do what they want and we do nothing?" the Gujarat chief minister asked.
He criticised the Prime Minister's decision to talk to his Pakistani counter-part, and said "I am anguished there is such government in Delhi that more soldiers have been killed by terrorists' bullets than in war."
Also attacking the Centre for the dismal state of the economy, Mr Modi said, "The government has weakened the rupee. If this goes on we will have to find the Rupee with a microscope."
Mr Modi drew many parallels between Gujarat and Tamil Nadu saying, "People of Tamil Nadu & Gujarat have mingled like sugar and milk. Tamil people came to Gujarat to make it the Manchester of India."
The Bharatiya Janata Party had managed a mere 2% of the seats in the last assembly elections in the state, and observers say Mr Modi's massive rally was aimed at attracting an ally.
The Gujarat CM has an excellent rapport with Tamil Nadu Chief Minister and AIADMK chief J Jayalalithaa. Mr Modi was among a set of select leaders who had attended Jayalalithaa's swearing-in as chief minister in 2011 and she had returned the favour by attending his swearing-in ceremony last year after he won his third term in Gujarat. But so far, she has shown no inclination in aligning with the BJP for the 2014 polls.