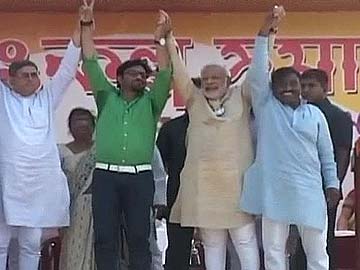 New Delhi:
Reflected in Prime Minister Narendra Modi's likely choice of new minsters today is the BJP's aggressive strategy to win upcoming state elections. Bihar, where assembly elections are due next year, is expected to get three new ministers, which will take its representation in union cabinet to eight.
Uttra Pradesh, which is crucial in the BJP's forward plans and even a state like West Bengal, where the party hopes to make a significant dent, find strategic representation.
The party hopes to replicate its big national elections win in Bihar in next year's assembly elections. It has to factor in regional powerhouses Nitish Kumar and Lalu Prasad teaming up with the Congress for by-elections held recently; the new grouping thwarted the BJP's bid at another good showing.
Today, apart from the expected induction of the BJP's former minister Rajiv Pratap Rudy, lawmakers Giriraj Singh and Ram Kirpal Yadav are also likely to take oath. They represent influential caste-based votebanks in the state. Mr Rudy is expected to be rewarded for handling the Maharashtra election very well for the BJP.
UP could get three more ministers today; the state already has a lion's share with nine ministers in the Modi cabinet. Among them Muqtar Abbas Naqvi, one of the party's most prominent Muslim faces and a Rajya Sabha member from UP, and Mahesh Sharma, who snatched the Gautam Buddh Nagar Lok Sabha seat from the Samajwadi Party this year.
As in Bihar, the BJP followed up a mammoth win in UP in the national elections with a below-par show in by-elections a few months later. UP, which will vote for a new assembly in early 2017, is crucial for the BJP's plan to get a majority in the Rajya Sabha or upper house of parliament.
Before UP, West Bengal will vote in 2016 in state elections. A non-entity till now, the BJP tasted first success this year. Though it won only two Lok Sabha seats, it placed second in a significant number. Singer-turned-MP Babul Supriyo may become the state's sole minister in the cabinet.
Jharkhand votes next month and BJP MP Jayant Sinha, son of former finance minister Yashwant Sinha, is expected to take oath today