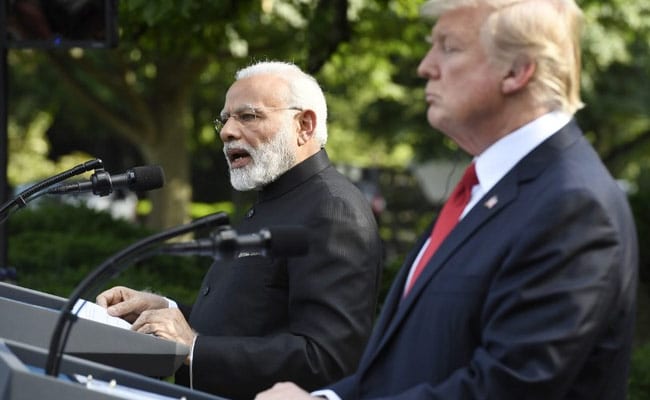 Highlights
PM Modi, Trump discussed counter-terrorism, economy, defence ties
They called on Pak to ensure that its territory is not used by terrorists
US also branded Hizbul chief Syed Salahuddin a global terrorist
WASHINGTON:
Reflecting a tougher stance by the US on terrorism emanating from Pakistan
, a joint statement after Prime Minister Narendra Modi's meeting with President Donald Trump called upon Pakistan not to let its territory be used to launch terror attacks.
"The leaders called on Pakistan to ensure that its territory is not used to launch terrorist attacks on other countries. They further called on Pakistan to expeditiously bring to justice the perpetrators of the 26/11 Mumbai, Pathankot, and other cross-border terrorist attacks perpetrated by Pakistan-based groups," the Indo-US joint statement said.
Foreign Secretary S Jaishankar said the joint statement, which called terrorism a "global scourge", also asked Islamabad to bring the perpetrators of the 26/11 Mumbai attacks, Pathankot and other terror attacks to justice.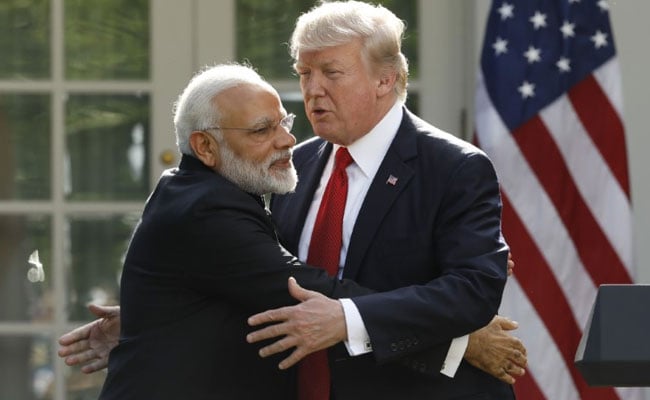 The specific reference to Pakistan not letting its territory to be used to launch terror attacks is a step further than the last two joint statements issued after PM Modi's meetings with former US President Barack Obama in 2016. Those statements had asked Pakistan to act against the perpetrators of the Mumbai and other terror attacks.
The strong messaging was expected. Just hours before PM Modi and President Trump sat down for a string of meetings stretching over four hours, the US Department of State designated Hizbul Mujahideen chief Syed Salahuddin, who has been training and pushing terrorists into India from Pakistan-occupied Kashmir for nearly 27 years, as a global terrorist.
"There's a context to it, there's signalling out of it, focusing on a particular group & individual," the Foreign Secretary said.
It was also a
message that President Trump sent clearly
from the Rose Garden lawns as he stood before the cameras, with PM Modi by his side. Both leaders struck a common chord on terrorism, pledging to scale up efforts to fight the menace.
President Trump, who noted that the two countries had been affected by terrorism, called the security partnership between the United States and India, "incredibly important".
"We are both determined to destroy terrorist organizations and the radical ideology that drives them. We will destroy radical Islamic terrorism," President Trump said.
With his eyes firmly on Pakistan, accused by New Delhi of sponsoring terrorism in India, Prime Minister Narendra Modi stressed that "fighting terrorism and doing away with the safe shelters, sanctuaries, and safe havens will be an important part of our cooperation."
PM Modi called fighting terror their top-most priority
and said India and the US will also enhance sharing of intelligence, and exchange information to deepen and expand our policy coordination as far as possible.
"We discussed the serious challenges of terrorism, extremism, and radicalisation, which are the major challenges facing the world today. And we have agreed to enhance our cooperation in fighting against these scourges," PM Modi said.