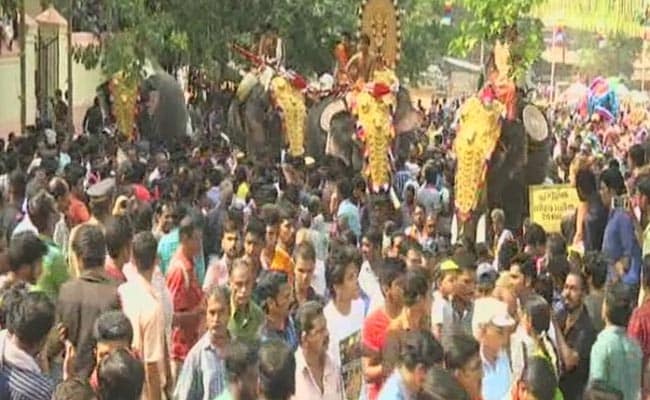 Thrissur, Kerala:
As 30 decorated elephants gracefully made their way down a festive Thrissur street in Kerala yesterday, few could doubt the stunning beauty of the parade that has come under a cloud lately for its use of captive elephants.
Tens of thousands of people yesterday thronged the Vadakkunnathan temple in Kerala's cultural capital, to listen to the music and watch the fireworks, on the sixth day of the annual, week-long Thrissur Pooram, Kerala's biggest temple festival.
"The music of the Pooram is beautiful. There is a feeling that almost breaks down one's ego," said Zavier, a tourist from Spain. "It's so wonderful to watch these colourful elephants, though it's against their freedom to be paraded," he added.
The Thrissur Pooram, started in the late 18th century by the popular King of Cochin, Raja Rama Varma, has been a major draw for tourists for decades. But recently, animal rights activists have spoken out against the use of "chained, thirsty and overworked" elephants. People for the Ethical Treatment of Animals moved the Kerala High Court last week against using 'live' elephants. Hollywood actor Pamela Anderson offered to pay for faux elephants made of bamboo.
Both the court and the government decided they wouldn't interfere with two centuries of tradition. And yesterday, the parade went on as planned, with the elephants on their feet for a lot longer than the three hours mandated by the state government.
The parade has its supporters, of course.
"These elephants are not being used for commercial purposes,'' said Thiruvanchoir Radhakrishnan, Kerala's Minister for Forests and Environment. "This is part of the rich culture of Kerala, no one can stop this. People come to watch these elephants, it's a centuries old tradition and all efforts are made to ensure that the needs of the elephants are taken care of," he added.