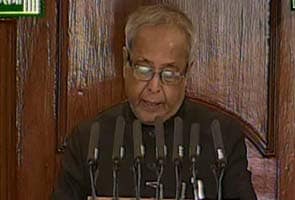 New Delhi:
President Pranab Mukherjee, making his first address to a joint gathering of MPs from both Houses of Parliament on the first day of the Budget session today, said he hoped for a productive Parliament sitting, that comes after a tough economic year.
The Left parties are boycotting the President's address to show solidarity with trade unions who have called a two-day Bharat bandh. Less than an hour before Parliament reconvened, the Prime Minister urged the opposition to participate in "responsible dialogue and debate" during the session.
"We are looking forward to a productive, constructive session of Parliament. That's what our country's people expect," the PM said.
The government will on February 28 present what many expect will be an austerity budget outlining its plans for expenditure for the next year. The PM stressed the need for "credible action to ensure we are least affected by global slowdown."
Last night, the government brokered peace with the main opposition party, the BJP, with Home Minister Sushil Kumar Shinde formally voicing regret for comments made a month ago about "saffron terror" - his remarks that the BJP and its parent body, the RSS, promote terror at their training camps had outraged the opposition, which said it would disrupt parliament unless the minister offered an apology.
While a compromise has been reached over that controversy, the government will face heat over high prices and alleged corruption in a deal to buy 12 helicopters from AgustaWestland (AW), based in Britain but owned by Italian defence giant Finmeccanica.
The opposition has seized the accusations of kickbacks, made by Italian investigators, to attack the government of endemic graft, an issue which it will highlight in the next few months leading to the national elections scheduled for next year.
India has threatened to cancel the helicopter deal and has sent a CBI team to Italy to uncover more details. The opposition says it wants a Joint Parliamentary Committee to study the scandal.
Parliamentary Affairs Minister Kamal Nath conceded today that though Italian investigators have so far been reluctant to share information with India, the government will focus on uncovering the facts and punishing those responsible. He also said that the government is prepared to hold lengthy talks in Parliament over the alleged scam.
The opposition is likely to disrupt Parliament over the scandal.