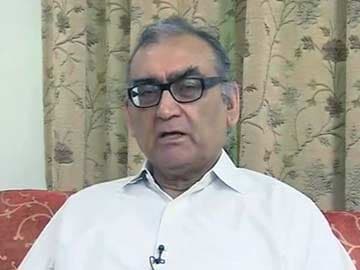 New Delhi:
After his sensational allegations that three former Chief Justices of India made "improper compromises" to keep a corrupt judge, Justice Markandey Katju today confronted one of them, Justice RC Lahoti, with six questions.
Justice Katju, the chairman of the Press Council of India, has alleged that a corrupt judge was allowed to continue in the Madras High Court despite serious allegations against him because of pressure on then Prime Minister Manmohan Singh from a Tamil Nadu ally.
He has accused then Chief Justice of India, Justice RC Lahoti, of succumbing to political pressure and extending the two-year tenure of the judge despite adverse reports against him and a Supreme Court collegium recommending the opposite.
"Is it, or is it not, correct that after that recommendation of the 3 Judge Collegium of the Supreme Court was sent to the Government of India, he (Justice Lahoti), on his own, without consulting his 2 other Supreme Court Collegium colleagues, wrote a letter to the Government of India asking the Government to give another 1 year term as Additional Judge to the concerned Judge?" Justice Katju asked today in a blog.
Justice Katju's revelations have sparked a political row, with the BJP government calling for a "clarification from Manmohan Singh." (
Justice Markandey Katju's Allegations Confirmed by ex-Law Minister
)
Justice Katju has faced questions about why he waited for 10 years to make the disclosure. On Monday, he insisted on NDTV that the "question is not why I did not make this disclosure earlier, the question is whether what I'm saying is correct or not." When the interviewer pressed for an explanation about his timing, he pulled out his earpiece and ended the interview.
(Watch the full interview)
|
(Blog: Yelling at Me Won't Change the Facts, Justice Katju)
In his blog today, he addressed the question, saying he started relating his experiences in Madras High Court when he posted about the judge.
Justice Katju was in 2004-5 the Chief Justice of the Madras High Court.
Justice Lahoti had told NDTV on Monday, "Everything is a matter of record. I have never done anything wrong in my life."