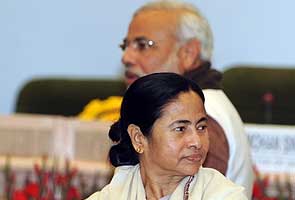 Kolkata:
The BJP claims that West Bengal Chief Minister
Mamata Banerjee
has refused to help the party organise a giant reception in Kolkata for Gujarat Chief Minister
Narendra Modi
.
On April 9, Mr Modi is scheduled to address industrialists in Kolkata. His party had planned a reception that evening for him at the city's famous Netaji Indoor Stadium, which can seat over 10,000 people.
The BJP claims that initially, it was told that the stadium, which is run by the government, was available. But when it tried to book the venue, officials said it had been reserved for a private party.
BJP state president Rahul Sinha then wrote to Ms
Banerjee
, requesting her intervention, but was told she would not be able to help.
Since winning his third election in a row in December in Gujarat, Mr
Modi
has addressed a series of high-profile conferences, choosing always to emphasize his model of governance in Gujarat, to which he attributes the state's economic progress.
Over the weekend. Mr Modi was appointed to the BJP's top decision-making body, the parliamentary board, which has 12 members. Mr Modi is the only chief minister in the core group. His induction formalises the large national role that many in the party have been seeking for him. While the BJP has acknowledged Mr Modi's national stature, it has not declared him the party' s prime ministerial candidate for next year's national election.
Mr Modi's aspirations for the country's top job have to contend with the shadow of the communal riots in 2002 which took place in Gujarat. 1200 people were killed, most of them Muslims. Mr Modi has been accused by critics of allowing rioters to attack Muslim neighbourhoods. Those charges have not been proved in court, as his party keeps pointing out.