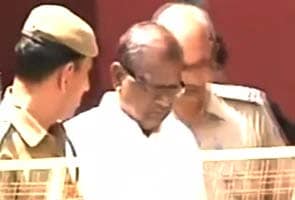 New Delhi:
After being found guilty of accepting a bribe, former BJP president Bangaru Laxman has been sentenced to four years imprisonment and fined Rs 1 lakh.
The story goes back to 2001 when news organisation Tehelka.com conducted a sting. A reporter posing as an arm dealer offered Mr Laxman one lakh as a kickback for a contract. Hidden cameras caught Mr Laxman accepting the bribe. Mr Laxman accepted the money in return for hiring the company to supply hand-held thermal imagers to the Indian Army.
The FIR in the case was registered on December 6, 2006 against Bangaru Laxman, his assistant personal secretary N Umamaheshwar Raju and personal secretary T Satyamurthy. Mr Satyamurthy, however, had been granted pardon by a trial court after he turned an approver in the case, while the trial could not proceed against Raju due to lack of evidence. A Delhi court in May last year had framed corruption charges against Mr Laxman.
Earlier in the day, Mr Laxman while appealing for a lesser sentence, personally argued that his health was in a bad state and he had never faced such allegations in his political career. "It is the first time I have been in such a situation," he appealed to the judges.
Mr Laxman has been convicted under the Prevention of Corruption Act for misusing his office and for attempting to influence another public official. He faces a maximum of five years in jail.
The CBI while making its closing arguments today said corruption had been proved in the case and also stated how the Supreme Court had noticed the spread of corruption in society, appealing for the highest punishment for Mr Laxman.
His defence team argued again in court that the deal was a fictitious one and Mr Laxman's age, health, background and clean career should be considered.
On Friday, The court in its 155-page judgement said Mr Laxman received money to "influence the public servants."
"I am of the considered opinion that CBI (Central Bureau of Investigation) had been able to establish the necessary ingredients of offence under section 9 of the Prevention of Corruption act, 1988 against accused Bangaru Laxman beyond reasonable doubt," the court had said.
Bangaru Laxman is still a member of the BJP's national executive.