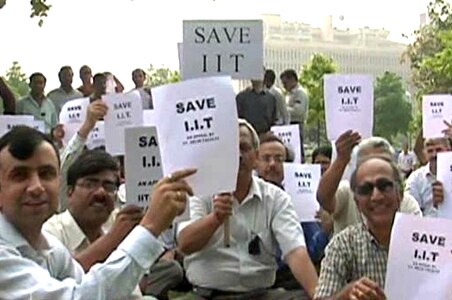 New Delhi:
The IIT faculty, which has been protesting "anomalies" in the pay structure, on Saturday, took their demands, including that for a better package at entry level, to the Prime Minister's Office.
Representatives of IIT Faculty Federation met T K A Nair, Principal Secretary to Prime Minister Manmohan Singh, and apprised him about its discussion on the issue with HRD Minister Kapil Sibal and IIT Directors in the last two days.
"We demanded that the IITs should get more funding. There should be better package for the faculty members at entry level so that young talent will be encouraged to join the IITs," Federation President Prof M Thenmozhi said.
She said Nair was very "receptive" to the demands of the Federation.
"We also wanted flexible cadre system in the IITs. Nair will put forth our views before Prime Minister Manmohan Singh," she said.
The Federation had on Friday met Sibal who assured them that the IITs are free to relax the pay structure norms to attract talent.
Thenmozhi said it would be better if the government comes up with a formal order to this effect. Earlier in the day, the Federation met the IIT Directors and discussed how to address "anomalies" in pay structure.