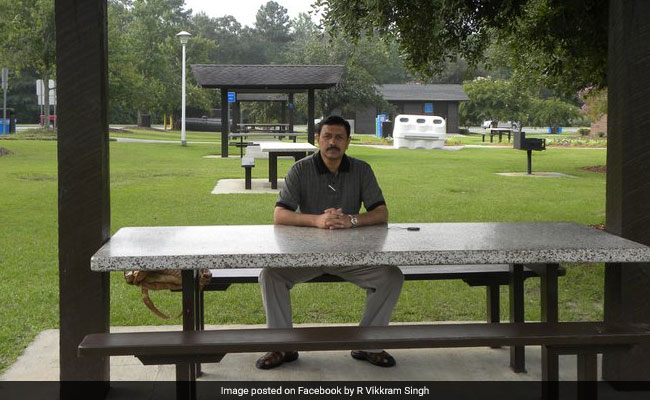 Highlights
Bareilly district magistrate posted it two days after Kasganj clashes
Now-deleted post said a "strange trend" had started of late
Administration hasn't said what triggered the Kasganj violence
LUCKNOW:
Raghvendra Vikkram Singh, the Bareilly district magistrate who had put up a post on Facebook that appeared to blame right-wing Hindu groups for provoking communal clashes in Uttar Pradesh, removed the post.
Mr Singh's now-deleted post said a "strange trend" had started of late. "To visit Muslim areas and raise slogans against Pakistan. Why? Are they (Muslims) Pakistanis?" The same thing had happened in Khailam village of Bareilly. Then stones were thrown, FIRs lodged," the officer's post, in Hindi, that was seen in context of the Kasganj violence and triggered a controversy, said.
A short service commission army officer before joining the civil services, Mr Singh, 59, was last year posted as district magistrate of Bareilly, about 100 km from Kasganj town.
He put up the Facebook post on Sunday, just two days
after 22-year-old student of commerce
Chandan Gupta died in communal clashes that broke out in a Muslim-majority locality of Kasganj during a "Tiranga bike rally" by members of the local unit of the RSS-affiliated students' group, ABVP.
Governor Ram Naik had called the Kasganj violence
a "blot" for the state
ruled by Chief Minister Yogi Adityanath. The situation in Kasganj is still tense but a heavy deployment of police personnel combined with a crackdown on hooligans in the district has ensured peace.
Two more people were also injured
in the Kasganj violence. Naushad, a labourer on his way back home, was hit by a bullet in his leg in the clashes that killed Chandan Gupta. In the violence and arson that followed, Mohd Akram was also injured when a mob out for revenge dragged him out of his Maruti car and tried to gouge out his eye.
The administration hasn't elaborated on what triggered the Kasganj violence. A cell phone video of the rally accessed by NDTV shows hundreds of young men, many holding saffron flags, standing at one of the streets. Reports say they were asked by locals to move off, but they refused. In the video, they could be heard saying they won't change route. Slogans were being shouted, that said everyone will have to say "Vande Mataram" if they wish to live in India.
Reports have suggested that the police had not given permission for the bike rally.
Mr Singh later told reporters that his point was that "you need to have police permission or permission by the administration for certain things".
"The problems of law and order that we are facing... if someone does these things without proper permission from the administration, so many problems happen. When you are aggressive without a reason, when you do not seek police permission, you defy, there are many problems... Sometimes these things take a turn and incidents like Muzaffarnagar happen. Restraint is what is needed," he said.