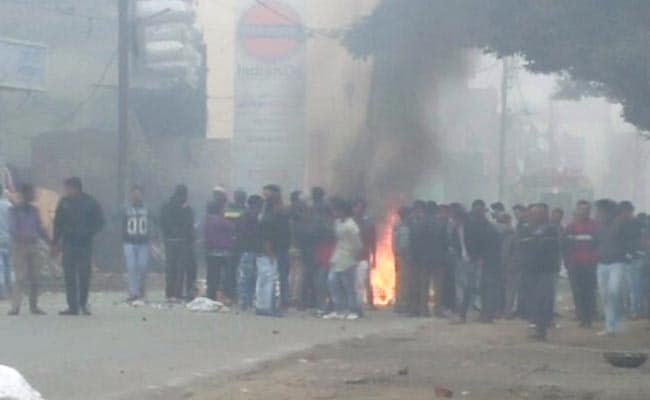 LUCKNOW:
A young man died and another is critically injured after clashes broke out between two communities in a western Uttar Pradesh town this morning.
The incident took place 170 km from the national capital when someone threw stones at a "Tiranga bike rally" passing through a locality in Uttar Pradesh's Kasganj town. The rally had been organised by the RSS-affiliated students' group, Akhil Bharatiya Vidyarthi Parishad (ABVP) and Vishwa Hindu Parishad (VHP) to commemorate Republic Day.
The police said it wasn't clear who threw the stones but it triggered violence that saw both sides hurling stones at each other.
Later, a mob went on a rampage burning down motorcycles, attacking other vehicles and also placed set fire to a place of worship.
Someone also opened fire.
The young man who lost his life in the violence was reported to have been hit by one of these bullets.
"The situation is now under control," a senior police officer told NDTV after top district police officers rushed to the spot with additional forces to clamp down to prevent the violence from escalating.
The police have ordered traders to shut their shops, told people not to venture out of their homes and directed schools not to hold classes tomorrow as well.
Chief Minister Yogi Adityanath has appealed for peace and ordered the officials to deal sternly with people trying to create trouble.
"It seems the incident was not pre-planned, but was a spontaneous one," Anand Kumar, a senior police officer in state capital Lucknow said.
"The trouble makers are being identified, and stringent action will be initiated against them," Mr Kumar said, asserting that the administration had been able to control the situation so far and would be given additional forces to keep peace.
The Chief Minister has also expressed grief at the death of the young man in the clash and told the district administration to extend all possible help to his family.