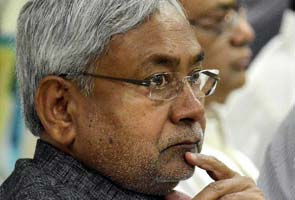 Patna:
Nearly three weeks after his break-up with the BJP, Bihar Chief Minister Nitish Kumar is apparently not looking to bury the hatchet.
In Patna today, he targeted
Narendra Modi
, whose recent promotion as BJP's poll campaign chief, prompted the end of a 17-year partnership.
"I am not Rambo type of personality. I do not have that kind of potential," Mr Kumar said in a direct attack on Mr Modi, who late last month visited the flood-ravaged state of Uttarakhand, where a thousand people have died. A newspaper report said he rescued 15,000 Gujaratis in a "Rambo act."
The Congress decried Mr Modi for singling out Gujaratis for help, and trying to grab political mileage. The BJP took a few days to respond. Party president Rajnath Singh said last week that Mr Modi had reassured him that he had never claimed to have rescued thousands of people from his home state.
That attempt to nullify the controversy came as an important BJP ally, the Shiv Sena, pulled up Mr Modi for limiting his rescue mission to Gujaratis. In an editorial, Sena chief Uddhav Thackeray said that with his new post as the BJP's national election campaign leader, Mr Modi must broaden his perspective.
Mr Thackeray later said that his comments were intended as "constructive criticism."
Mr Kumar said his efforts were effective but restrained. "I myself presided over several meetings of state disaster management team and gave necessary direction to help the stranded devotees (from Bihar)," he said.