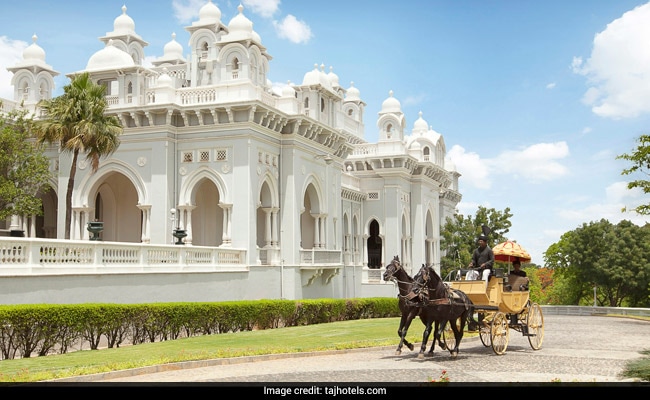 New Delhi:
Hyderabad's
Falaknuma Palace
has the
world's largest dining hall.
Prime Minister Narendra Modi will host the White House advisor
Ivanka Trump
at this luxurious palace tomorrow. The palace was built in 1893 by Nawab Vikar-ul-Umra, prime minister of
Hyderabad
. Its restoration process began in 2010 after it was leased by the Taj Group of Hotels. The scorpion-shaped palace has a grand hall with sophisticated wood interiors, ornate crystal chandeliers, and acoustics that let visitors hear whispers from one corner of the
room
to another. PM Modi and
Ms Trump
will dine at the Hyderabad Nizam's famous '101 Dining Hall' that can seat can seat 101 guests at a time.
Here's all you need to know about the unique Falaknuma palace which has the world's largest dining hall:
Falak-numa means 'Like the Sky' or 'Mirror of the Sky' in Urdu. The Falaknuma palace belonged to the Paigah family, and was later owned by the Nizam of Hyderabad.
Built in an area of 32 acre, the Falaknuma Palace is 5 km away from Charminar, Hyderabad's famous monument and mosque.
The opulent Falaknuma Palace has a majestic blend of Italian and Tudor architecture. The ceiling of the state reception room is decorated with frescoes.
The lavish palace has 22 halls and 60 rooms.
The dining hall can seat 101 guests at a time. It's the world's largest dining hall and has chairs made of carved rosewood.
The palace has a collection of the Nizam's artefacts including paintings, statues, furniture, manuscripts, books and an extensive collection.
The palace has a library with a carved walnut roof. It is a replica of the one at Windsor Castle, a royal residence in the English county of Berkshire.
Two identical billiards tables were designed by Burroughs and Watts from England. One of the table is in the Buckingham Palace and the other in the palace's billiards room.
The palace was not open to the public until 2000 as it was the private property of the Nizam family.
The Taj Group started renovating and restoring the palace in 2010. After renovation, it was opened for public in November 2010.