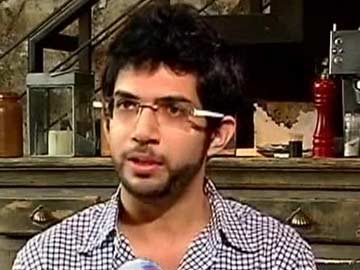 Mumbai:
Aditya Thackeray
, the 24-year-old leader of the Shiv Sena, today told NDTV that while his party's partnership with the BJP has ended in Maharashtra, "the alliance stays at different levels."
Aditya has been assigned a starring role by his party in its campaign for the Maharashtra election on October 15. That's hardly surprising - his father, Uddhav, is party chief since Bal Thackeray's death in 2012 and Aditya has been President of the Sena's Youth Wing since 2010. But his first foray into big-league politics has been exacting - the BJP ended a 25-year-old alliance with the Sena last week after feuding over how many seats it would be assigned to contest.
Aditya, bespectacled, slight, and sometimes spotted in Gucci flip-flops, was among the Sena delegates who negotiated with the BJP, which has suggested that it was insulted to be assigned the attentions of a rookie.
"It was a BJP leader who approached me to go for talks," he said in an exclusive interview to NDTV. "I was hurt that they raised issues about my age. Why do this when you talk about (the need for) youth in politics?" he asked.
Describing the BJP's decision to end the collaboration as "backstabbing", Aditya said,"We still share a bond with some BJP leaders."
That declaration echoes what his father announced yesterday- that the Sena has not yet decided whether it will exit the national coalition (NDA) that's pivoted by the BJP.
Today, Uddhav Thackeray stated again, "We will talk to the PM about what went wrong...and consult him and our workers about whether to leave the NDA."