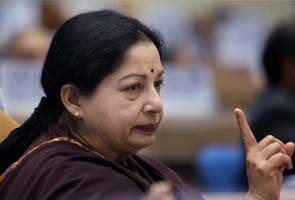 New Delhi:
Tamil Nadu chief minister J Jayalalithaa walked out in anger from an important meeting of all chief ministers which was being presided over by the Prime Minister.
Ms Jayalalithaa said she had been insulted because she had not been able to complete her speech.
(Read: full speech)
When the annual National Development Council (NDC) began, chief ministers were told to limit their speeches to 10 minutes each. Ms Jayalalithaa had exceeded the limit. A red light came on, indicating she needed to wrap up.
"I was barely able to finish 1/3rd of my speech. To show my protest I have walked out of the NDC meet," she said. "I began my speech, they rang the bell soon after. This is humiliating," she complained. "We are not being allowed to present our views," she said, "the voices of chief ministers are being stifled."
(Read: Highlights of Jayalalithaa's speech)
The NDC meet has been called to discuss and approve the 12th Five-Year-Plan which sets the country's financial agenda for the next five years. The target for growth has been set at 8%.
The Tamil Nadu chief minister's speech was attacking of the Centre. She said its "big brotherly and undemocratic approach" of imposing financial policies and views on states is evident. She also said that recent reforms which led in an increase in the price of cooking gas violate fundamental needs of poor families.
Rejecting Jayalalithaa's charges, Minister of State for Parliamentary Affairs, Rajiv Shukla, said, "The Prime Minister showed a gesture by giving an opportunity to her to speak first, immediately after his speech, though her turn was to come much later. The time allotted to each chief minister is precisely 10 minutes." He also clarified that the same arrangement was made for chief ministers of Congress and non-Congress ruled states. "The leaders should not make political capital out of such events," he added.
(Read: Centre rejects Jayalalithaa's allegations)
(With Inputs from PTI)