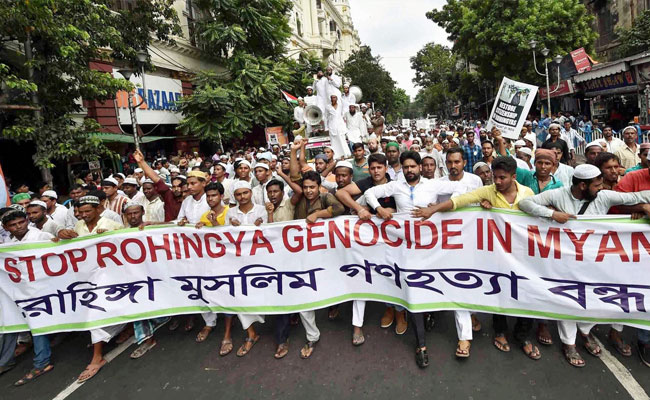 Kolkata:
On a day the Indian government was "deplored" by UN agencies for planning to deport some 40,000 Rohingyas who have been sheltering in India for years a dozen organisations - most of them Muslim - took to the streets of Kolkata to protest what they called the genocide of Rohingyas in Myanmar.
At least 25,000 to 35,000 protesters marched from Park Circus to Rani Rashmoni Road - a distance of about 5 km - and paralysed traffic. The slogans, banners and posters condemned Aung Sang Suu Kyi as strongly as Prime Minister Narendra Modi for visiting Myanmar last week but failing to raise the plight of the Rohingyas with the Nobel laureate.
"Mr Narendra Modi is destroying the Indian culture of sheltering helpless people. He wants to deport Rohingyas when they are being killed in their homeland. We will not allow it, we want to tell Mr Modi that," said Md Kamruzzaman of the All Bengal Minority Youth Federation, one of the main organisers of Monday's mega rally.
The rally ended in a mega meeting at Rani Rashmoni Road where the event took on a further political twist. Congress MP Adhir Ranjan Chowdhury arrived and sat on the dais, as did CPM MLA Sujan Chakraborty. There was no one from the Trinamool.
One of the organisers of the meeting, Pirzada Toha Ali Siddiqi, claimed Trinamool MP Mukul Roy had been invited but did not show up. Mr Roy, as a matter of fact, spent the day at the CBI for the Narada case.
Mr Adhir Chowdhury told NDTV, "We are here to protest against the atrocities being perpetrated by the Myanmar government on Rohingyas. And the Centre's total insensitivity about the violence on the people."
Mr Sujan Chakraborty said, "Mr Modi did not raise the Rohingya issue with Aung Sang Suu Kyi deliberately. He is practicing divisive politics."
The Kolkata Police's Facebook page said "a religious procession" was causing a slowdown of traffic in many parts of the city. Asked if it was a religious procession one, Md Kamruzzam said, "This is a political rally. There is nothing religious about it. We want justice for Rohingyas."
A team of protesters went to the Myanmar consulate in Kolkata to submit a memorandum of demands.
The rally was held on a day BJP chief Amit Shah was in Kolkata to try and invigorate his party to take on Trinamool. He was at a closed door meet all day a few kilometres from the rally site. The meeting began before the rally did and Mr Shah did not feel the brunt of tangled traffic.