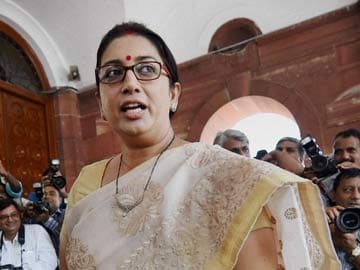 New Delhi:
Human Resource Development Minister
Smriti Irani
met directors of six elite Indian Institutes of Technology over two hours this week and reportedly plans a "retreat" with them for more discussions.
She also met the director of the Central Board of Secondary Education (CBSE), Vineet Joshi today.
One of the IIT directors who attended the meeting with the minister told NDTV that Ms Irani, 38, "seemed well informed and very positive."
Sources said the 38-year-old minister heard out the problems of the academics and asked them their ideas for areas of improvement
She is expected to go to Gujarat soon and visit the Gandhinagar IIT, one of the newer institutes.
The ruling BJP has promised an IIT in every state in its election manifesto for this year.
Ms Irani has also helped 700 students who studied in School of Planning and Architecture (SPA) in Bhopal and Vijaywada and in IIIT Kancheepuram who have not received their degrees since 2005 to finally get accreditation.
Ms Irani is a popular TV actor turned BJP leader, whose qualification to handle the country's education ministry was questioned by Congressman Ajay Maken soon after she was sworn in, on account of the fact that she does not hold a graduation degree.
While the BJP stoutly defended its young minister, Mr Maken was ticked off by his party colleague Manish Tewari, who suggested that "distinction must be made between literacy, education and intelligence. Such individual attacks are avoidable." (
Congress Frowns Upon Ajay Maken for Remarks on Smriti Irani's Education
)
The Congress also sought to raise a question over an alleged discrepancy in Ms Irani's details of education in her election affidavits. The minister has requested people to "
judge me by my work
."