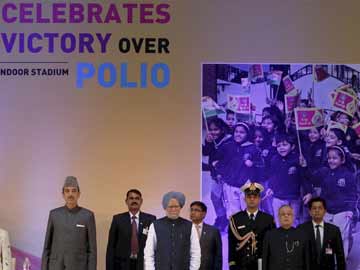 New Delhi:
India today marked a major achievement in public health - the victory over polio. The country has now completed three years without any polio cases, one of the key per-requisites for polio-free certification from the World Health Organisation.
Five-year-old Rukhsar from Bengal, who's been battling polio for three years now, was India's last reported polio case on January 13, 2011. All cases of paralysis reported after Rukhsar's have tested negative for polio.
It is no mean achievement, say officials. In 1985, when the first oral polio vaccine was introduced, India saw over two lakh cases of polio annually. The first national polio immunization programme started 10 years later, in 1995. Since then, 131 polio campaigns have been held, and over 1210 crore polio vaccines administered till January this year.
At a function in Delhi to mark India's polio free status, Prime Minister Manmohan Singh said, "India accounted for half of world's polio cases. Virus from India travelled far and therefore it shows our commitment to eradicate this and be polio free."
But this success would not have been possible without the efforts of people like Martha Dodray and lakhs like her across the country. Martha works at a very remote health center called the Kuseshwar Asthan East in Bihar's Darbhanga district, and has been on the frontline in protecting children through immunisation programmes. In 2013, she was given a United Nations Foundation Award for her work. She received the award in New York.
The real challenge, though, will be to sustain this success story. Leader of Opposition in the Lok Sabha, Sushma Swaraj said at the Delhi function, " While we are celebrating, let us promise to eradicate polio from every country and that day India will stand by the world and celebrate that achievement."