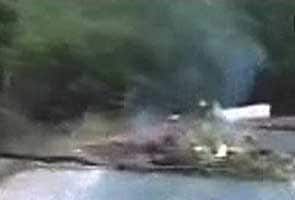 Raipur:
From the remote regions of Chhattisgarh, where 30 people in a Congress convoy were massacred by suspected Maoists yesterday, details are now emerging of a precision strike, meticulously planned and implemented with deadly accuracy.
Top Chhattisgarh Congress leader Mahendra Karma was shot in cold blood. The body of state unit chief Nand Kumar Patel was found this morning. Former Union minister VC Shukla is critically ill with three bullet wounds in his abdomen. He is being operated upon at the Medanta Medicity Hospital in Gurgaon.
Sources say there are also indications that the local police and the top Congress leaders of the state participating in the party's "parivartan yatra" might have ignored standard operating procedures that are considered crucial in Naxal-dominated regions.
Top political leaders are advised not travel through such routes in a single convoy. Yet on Saturday evening, almost all the top leaders of the Congress' Chhattisgarh unit were travelling in the line of 25 cars returning together after the day's yatra in Sukma district. Only Ajit Jogi was not with them. The former chief minister has to fly everywhere after his major accident some years ago.
In such regions, the police are supposed to sanitise roads and surrounding areas an hour before an important movement. However, there are reports that the CRPF (Central Reserve Police Force) had reportedly done this only three to four hours before.
That time reportedly allowed about 250 suspected Maoists, well-armed, to position themselves at the ambush site in the Dharma valley close to a forested area and ambush the convoy when it drove past.
The attackers positioned themselves on hillocks and blocked the road with trucks. As the convoy drove past first, the alleged Maoists blasted a heavy Improvised Explosive Device (IED) then several more. Heavy firing followed.
Mr Karma, who had survived an assassination attempt last year, had Z-plus security which means that a posse of about 30 policemen guarded him.
Although the security men travelling with the Congress convoy fired back, they soon exhausted their ammunition and were cornered. The Maoists then pulled out Mr Karma from his vehicle and killed him in cold blood. Eyewitness say the attackers snatched the mobile phones of all leaders as they rounded them up.
The state unit of the Congress has accused the BJP government of Raman Singh of not providing adequate security for the Congress rally.