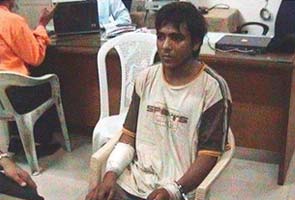 New Delhi/Mumbai:
Ajmal Kasab was moved from Mumbai to Pune for his execution in a highly secretive and early morning operation that very few officials had a wind of, suggest details emerging a day after his death.
Sources said the 26/11 convict was taken out of Mumbai's high-security Arthur Road Jail, where he spent four years, around 1 am and driven to Pune's Yerwada Jail in a fleet of five unmarked cars. The Yerwada prison is one of the two in Maharashtra equipped to handle execution by hanging.
Along the way, Kasab was guarded by about 15 policemen in plainclothes. They included officers, prison guards and armed commandos. The group reached Yerwada Jail by 5 am and Kasab was immediately put in a solitary cell.
From there on, it was a wait till the morning of November 21, when Kasab was hanged at 7.30 am, just five days before the fourth anniversary of the Mumbai attacks. A few hours later, 25-year-old Kasab was buried inside the jail premises.
All policemen who had travelled with Kasab from Mumbai remained quarantined until the execution, codenamed Operation X, was over. The news was officially announced by Maharashtra Home Minister RR Patil.
Kasab was the only terrorist to be captured during the 26/11 attacks that claimed 166 lives, both Indians and foreigners, and scarred several of Mumbai's landmarks. His nine Pakistani companions, who unleashed mayhem in the city for three days, were killed by security forces.
The countdown to the execution started on November 5 with President Pranab Mukherjee rejecting Kasab's mercy petition.
Two days later, Home Minister Sushil Kumar Shinde, returning from an Interpol meeting abroad, found the file on his table and signed it "immediately". The papers reached the Maharashtra government on November 8.
On November 10, the Home Ministry and the Maharashtra government discussed possible dates for the execution - November 20 and 21 - and chose the second.
Kasab was informed about the decision to hang him on November 12. Sources said he expressed no last wish but wanted his mother in Pakistan to be informed. The Home Ministry contacted the Ministry of External affairs for the purpose, but fearing leakage, a decision was taken to inform Pakistan only a day or two before the execution.
According to Mr Shinde and External Affairs Minister Salman Khurshid, the Indian High Commission in Islamabad informed Pakistan's Foreign Office about the hanging on November 20, but it rejected accepting formal communication. But Islamabad claims it had acknowledged the communication.