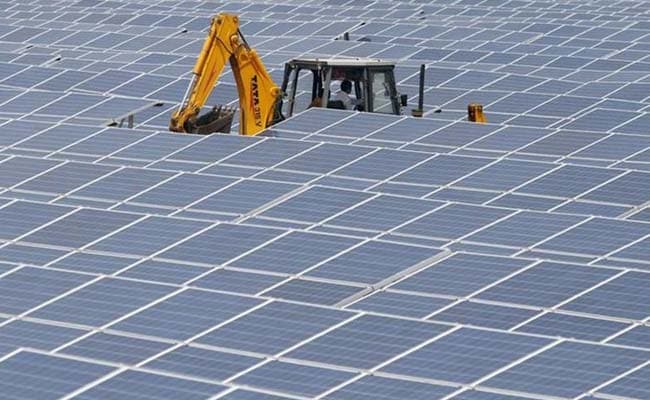 New Delhi:
Close to midnight on Thursday, there was unusual bustle at the North Block on Raisina Hill, which houses the Finance Ministry.
Outside, drivers of government vehicles and security yawned openly as a long work day stretched on. Inside, three ministers burned the proverbial midnight oil. They had to take a quick decision on a recommendation made three months earlier that would increase the cost of solar power from the midnight of August 21.
On May 22, the Congress-led UPA government had been defeated and a victorious Narendra Modi-led NDA was yet to take oath. In that "twilight period," a recommendation was made by the Directorate General of Anti-Dumping and Allied Duties, under the Ministry of Commerce and Industry, that anti-dumping duties ranging from $ 0.11 per watt to $ 0.81 per watt be imposed on solar cells, modules or panels and thin films imported to India from China, Malaysia, Taiwan and the US at below their normal value.
The recommendation would come into play at midnight of August 21. With the sector sitting on the edge of a precipice, Finance Minister Arun Jaitley stepped in to mediate between Nirmala Sitharaman, minister of state for commerce and power minister Piyush Goel. After 40 minutes of discussions, the government had a decision - it put off the anti dumping levy.
Many in the business heaved a sigh of relief; they had held their breath for three months.
Sources in the solar energy sector say the anti-dumping duty would have made solar power expensive. "If input cost rises, the cost of power generation is bound to go up. Who wants to buy costly electricity, " said an insider.
India has installed close to 2,750 MW of solar power. The power ministry, facing rising power demand and low installed capacity and acute coal shortage, has been eyeing the deployment of additional solar power capacity of about 20,000 MW by 2022. The NDA government, which took office in May, had promised to promote renewable energy and is expected to raise this target.
The spectre of the new levy had promoters threatening to abandon their projects. The worst affected would have been projects in Madhya Pradesh, Karnataka, Andhra Pradesh, Punjab, Uttar Pradesh and Chhattisgarh.