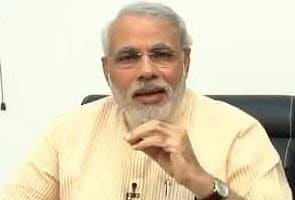 New Delhi:
Narendra Modi
's remark that he would like to "repay his debt to Mother India", being read as the clearest indication yet of the Gujarat Chief Minister's interest in running for Prime Minister, has set the cat among the pigeons. The Congress has reacted sharply, ally JD(U) too.
The ruling party's Manish Tiwari said today, "I often worry about the statements of the Chief Minister of Gujarat. I hope he does not want to do in the rest of India, in other parts of India, what he did in Gujarat in 2002." (
Read
)
Mr Modi was in office when Gujarat was ravaged by communal riots in 2002, in which more than a thousand Muslims were killed. The Congress accuses Mr Modi of looking the other way and alleges that his secular credentials are questionable.
The BJP's counter was swift. Its Prakash Javadekar said Mr Tiwari's comment betrayed his party's "exasperation and desperation." The BJP holds that the government is trying to hide its lack of achievements behind a fusillade of accusations against Mr Modi. "Instead of giving a positive reaction to what Modi said they are communalising him. After the unfortunate 2001 riots, Gujarat is a state free of communal tension," Mr Javadekar said, adding, "Other states have riots too."
But Mr Modi's party has more than the Congress to counter. Key ally the JD(U) has not taken kindly to Mr Modi's veiled admission of his ambitions either.
"I don't understand what
Narendra Modi
meant by saying that he wants to serve the country... Anyone serving their state is serving their country. By serving Bihar Nitish Kumar is serving India," said Shivanand Tewari, a senior leader of the JD(U). Nitish Kumar, who is the Chief Minster of Bihar and the JD(U)'s most influential voice, has made it clear that if the BJP makes Mr Modi its prime ministerial candidate, he will exit the NDA, the political conglomerate both parties are members of.
(Read)
Mr Modi was responding to a comment at a function yesterday when he said, "Not just me... All of us are obliged to repay our debt to the country." He then elaborated that a teacher paid his debt by educating, a doctor by curing people, and so on, leaving little doubt what he meant.
The BJP has recently acknowledged a national role for Mr Modi, but has not yet declared him its presumptive prime minister.