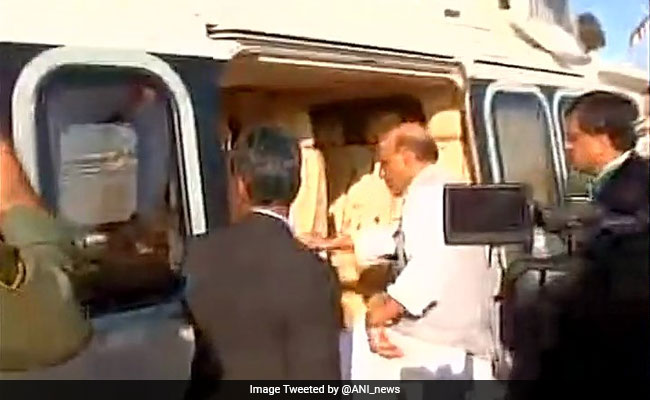 Highlights
Rajnath Singh will attend the 7th SAARC meeting in Islamabad
Hizbul chief Syed Salauddin held a protest as Mr Singh arrived
Lashkar chief Hafiz Saeed too had warned of protests against Mr Singh
New Delhi:
Home minister Rajnath Singh was greeted today by protests in Islamabad, where he has gone to attend the 7th SAARC meeting for home and interior ministers.
As the minister reached, terrorists like Hizbul Mujahideen chief Syed Salauddin openly held a protest in Pakistan's capital over the situation in Kashmir, where unrest is on since the killing of Hizbul Mujahideen terrorist Burhan Wani on July 8. Scattered protests in took place in Rawalpindi also.
Pakistan has lionised Wani, declaring him a martyr and the locals blame the Indian government for the situation in Kashmir.
Both Salauddin and Lashkar chief Hafiz Saeed had warned of protests against the Home Minister, prompting the Indian government to increase the minister's security.
Mr Singh, 65, is the first senior Indian minister to visit Pakistan since January's attack at Pathankot air base.
With no bilateral meeting scheduled with Pakistan's Home Minister, Mr Singh is expected to raise India's concerns on terrorism strongly at the multilateral forum.
Sources say the slow probes into the 26/11 and the Pathankot attacks will both be brought up as well as cross border terrorism from Pakistan through groups like the Lashkar-e Taiba and the Jaish-e Mohammad.
Apart from terrorism, the other key issues to be discussed include liberalisation of visas, illegal trafficking in narcotic drugs, and small arms.