Highlights
Syed Shahid Yousuf arrested by NIA in a 2011 terror funding case
He's accused of receiving money from Syria for purpose of funding terror
He works in Jammu and Kashmir government's agriculture department
New Delhi:
Syed Shahid Yousuf, the son of
terror group Hizbul Mujahideen's
chief Syed Salahuddin, has been arrested in Jammu and Kashmir by the National Investigation Agency (NIA) in a 2011 terror funding case.
Yousuf, 42, works in the state government as a village agriculture assistant and has a family home in Budgam.
"He was summoned for questioning to Delhi on Tuesday after initial rounds his role was conclusively established in the case and so we arrested him," NIA spokesperson Alok Mittal told NDTV.
The case involves funding through hawala channels by terrorists based in Pakistan and Saudi Arabia.
According to the top anti-terror agency, Yousuf was in touch with Saudi Arabia-based Hizbul Mujahideen terrorist Aijaz Ahmad Bhat and had received money to
fund secessionist and terror activities
in the Kashmir Valley.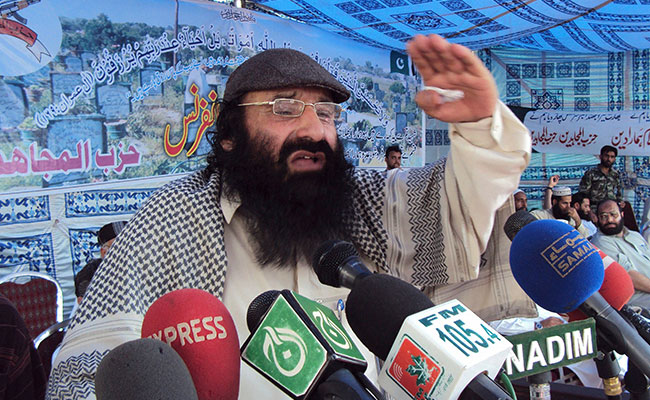 Sources say Yousuf accepted money transferred through Western Union by Aijaz, who is on the run, and investigators have documents from Saudi Arabia and India confirming the transfers.
The money allegedly meant to fund the Hizbul Mujahideen's terror activities in Jammu and Kashmir, was sent in four instalments to Yousuf between 2011 and 2014.
The NIA also has call records of multiple conversations between Aijaz and Yousuf.
"We have all the documents on money transfers as well as call details. It is on the basis of this irrefutable evidence that we have gone ahead with Yusuf's arrest," said a senior officer.
Four accused in the case are in Delhi's Tihar jail while two are missing.
The case had been dormant after the four arrests. The NIA revived the investigations recently and questioned Yousuf a few days ago.
Yesterday, the central government
announced a new interlocutor
, former Intelligence Bureau chief Dineshwar Sharma, for a "sustained dialogue" with all stakeholders in Jammu and Kashmir. Yousuf's arrest is a clear sign that the centre does not plan to go slow on its crackdown on separatist leaders.
Syed Salahuddin was in June declared a Specially Designated Global Terrorist by the US Department of State.