Highlights
Separatist Shahid Ul Islam was arrested last month in Jammu and Kashmir
NIA found photo of him with Hizbul Mujahideen chief Syed Salahuddin
Hurriyat leaders allegedly funded by groups in Pak, Dubai, London
New Delhi:
In a hint that the crackdown into terror financing in Kashmir could reach the doors of prominent Hurriyat leaders too, the National Investigation Agency has reportedly seized a list of 150 terrorists in Kashmir valley from a separatist Shahid Ul Islam arrested last month.
Shahid was a key aide of Mirwaiz Umar Farooq, the leader of moderate faction of the Hurriyat, and also acted as the separatist conglomerate's spokesman.
As one of the first to have crossed into Pakistan-occupied Kashmir for arms training back in the early 1990s, security agencies say Shahid oversaw some terror launch pads. He, however, returned to Kashmir after some time and surrendered. He was later associated with the Hurriyat conference.
Shahid was arrested in late July along with half-a-dozen others by the anti-terror probe agency in its first major crackdown to choke funding of separatists. In searches, the agency said investigators also found old photographs including one with Hizbul Mujahideen chief Syed Salahuddin. In a second picture, he is seen holding an AK-47 assault rifle and other armed men, who NIA says, could be terrorists.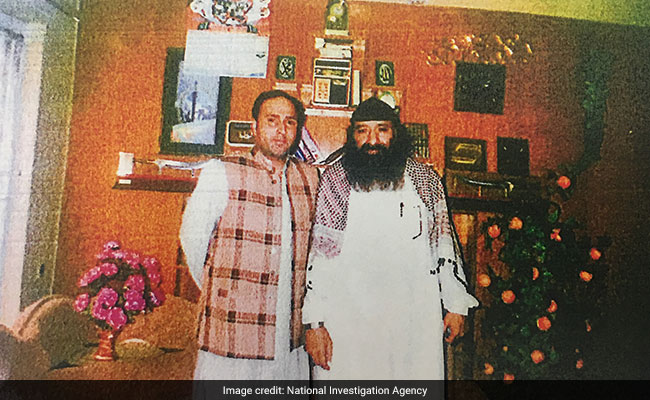 In his interrogation that followed, a top government official told NDTV, Shahid spoke of Hurriyat leaders receiving funds from outfits not just in Pakistan but Dubai and London as well. A senior police officer associated with the probe said investigators were still working on the channels they used to get the money.
Funding aside, the official said, the list of 150 terrorists that was seized from Shahid during its raids demonstrated that the line dividing separatists and the terrorists wasn't as wide and deep as previously believed.
This document, seen by NDTV, lists the names and areas where the terrorists operate. According to this, the Lashkar-e-Taiba has 82 terrorists active in the valley, the Hizbul Mujahideen 64, Jaish-e-Mohammed has 10 and Al-Badr, 2.
"We have some credible leads to work on... It is a wide investigation and will take some time," he said.
The official said they were trying to piece together evidence against both factions of the Hurriyat, the one led by Syed Shah Ali Geelani as well as Mirwaiz Umar Farooq as well.
At an earlier hearing, the NIA had told a Delhi court that they had been able to tie funds received by the separatists to ring leaders of stone throwers in the valley.
Sources told NDTV that investigators had also pulled out phone records of the separatists and were analysing their call records to back up its case. "We have analysed lot of phone calls we have ample technical and documentary evidence against people we have arrested and are questioning," a top NIA official Alok Mittal told NDTV.
Shahid Ul Islam and 6 others who arrested with him would be produced in court on Friday where the NIA is expected to seek some more time to interrogate him as they want to fill all the gaps. The agency will also share some of the findings of its investigation with the court to back its case.
Officials conceded that statements made by accused during custodial interrogation had limited value during trial because they could have been made under duress but are considered invaluable for helping agencies collect evidence to establish their case.