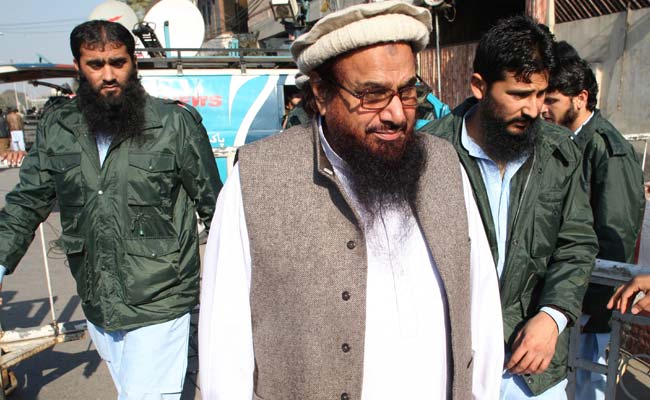 Lahore:
Hafiz Saeed, the mastermind of the 26/11 Mumbai terror attack, has rejected claims by Home Minister Rajnath Singh that he had supported the controversial event at Delhi's Jawaharlal Nehru University in memory of Parliament attack convict Afzal Guru.
"The India home minister has alleged that I am behind the protest of Kashmiri students in Jawaharlal Nehru University where they chanted slogans in favour of Pakistan. He also talked my tweet in this regard. I felt strange after learning the Indian home minister had given a reference of a tweet with my name," Hafiz Saeed said in a video message posted on YouTube on Monday.
"Neither I am behind the students protest nor I did any tweet to incite them (students). It is a fake tweet. India has made an issue out of this as if I am behind this protest campaign," said Hafiz Saeed, who tops the list of India's most-wanted terrorists.
"The Indian minister is misleading his own people and the world by levelling allegation on me that I am behind this protest campaign," he added.
On Sunday, the
Home Minister linked the founder of terror group Lashkar-e-Taiba to the student demonstrations
that saw anti-India slogans being shouted at an on-campus event that went ahead despite JNU denying it permission. "The incident at JNU has received support from Hafiz Saeed. This is a truth that the nation needs to understand," Mr Singh had said.
Mr Singh's remarks generated a fierce backlash. Hours later, the Home Ministry issued a clarification that the remarks were based on "inputs from different agencies".
The ministry clarification also followed reports that Mr Singh and the police were misled by a tweet purportedly from a Twitter handle in the name of Hafiz Saeed. On Sunday, Pakistani newspaper The Dawn reported the Hafiz Saeed handle was fake. Hafiz Saeed's Twitter handle was blocked a long time ago.