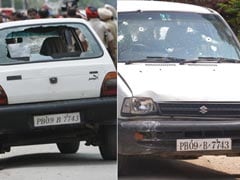 At least six people were killed by a group of terrorists in Gurdaspur in Punjab near the border with Pakistan. The three terrorists were holed up in an empty police station and exchanged fire with security forces. All the three terrorists were killed in counter-terror operations.
This is how the attackers struck, according to information from sources:
Around 5.30 am, the three armed terrorists, wearing army uniforms, tried to grab a tempo on a major highway near the bus stand in Dinanagar.
The tempo driver managed to escape, said sources.
A roadside food stall owner was reportedly killed in the firing.
The terrorists then opened fire on a bus heading towards the state capital of Chandigarh; six passengers were injured.
The terrorists shot next at a white Maruti 800; the driver was injured; the attackers left in his car
They stopped at the police station in Dinanagar and opened fire. Two cops were killed.
In the exchange of fire with security forces, three patients at a hospital next door were shot, according to sources. Two of them have died.
The terrorists were then holed up in a part of the police station and continued to exchange fire with security forces. Another three policemen were killed during the counter-terror operations.
All three terrorists have been killed, sources told news agencies. The operation is over.