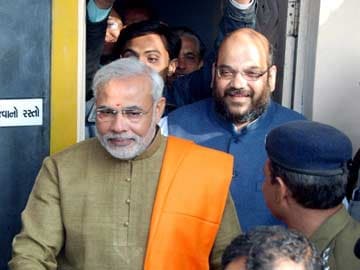 Gandhinagar:
The Gujarat police today refused to register suspended IAS officer Pradeep Sharma's complaint against Narendra Modi and his close aide Amit Shah in connection with the alleged spying on a young woman by state officials.
Mr Sharma had gone to the Gandhinagar police to file an FIR, or police complaint, against the Chief Minister and two others but was reportedly told that there is already a judicial commission investigating the case.
"I told the police officer that this is a criminal offense and you have to file an FIR, but they refused, though I have produced clear evidence" Mr Sharma told reporters, adding that he would make another attempt to file a complaint with the Deputy Superintendent of Police, based on the revelations of two news portals, Gulail and cobrapost.com.
The portals have claimed that audio tapes with the Central Bureau of Investigation or CBI reveal that in 2009, Amit Shah, Gujarat's then Home Minister, ordered the state's senior police officers to spy on Mr Sharma and the woman at the behest of a "sahib" or "boss."
The Congress has alleged that Mr Modi was the "boss" referred to in those conversations, whose authenticity has not been corroborated by the CBI.
Last month, gulail.com said it had accessed more conversations that prove the woman was spied upon by Gujarat officials even in Bangalore, where she stayed.
The BJP says the woman's father, who was known to Mr Modi, was worried about her safety and asked for her to be protected. Last month, a letter from the woman's father verified that claim, and requested the National Commission for Women to ignore demands for an investigation out of respect for her privacy.
Pradeep Sharma, who was suspended by the state government in 2010 and then arrested on corruption charges, has alleged that he was persecuted and spied on because Mr Modi believed the woman had shared sensitive video clips with him.