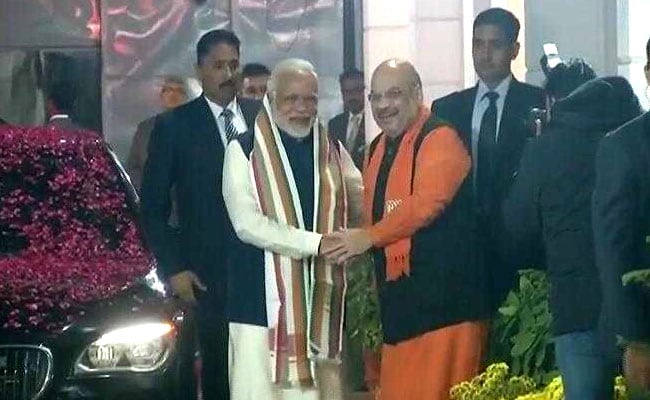 Ahmedabad:
For the Gujarat Assembly election, counting day has been full of twists and turns, ups and downs, cheers and celebrations, and quite a few nail biting moments. Prime Minister Narendra Modi's BJP, which came to power in Gujarat for the sixth time, faced a tough battle against a renewed Congress under the leadership of newly elected party president Rahul Gandhi. The BJP, whose chief Amit Shah, had set a target of 150 plus seats for the party in the 182-seat assembly, faced a greater challenge that they probably expected. Counting of votes began at 8 am this morning. Usually on election counting day, results are more or less known by midday, but today's contest between the BJP and the Congress kept everyone guessing the margin of victory till late evening. The Congress which is seen to gain nearly twenty seats compared to the 2012 assembly elections secured 77 seats. The BJP, though seen to be getting a majority mandate, has been reduced to double digits and finished with 99 seats, down sixteen. Campaigns in Gujarat, both by the BJP and the Congress, were high-pitched and bitterly-fought. The BJP has been ruling in Gujarat for the last two decades and today's win is being seen as a significant one ahead of the 2019 general elections. The BJP also won in Himachal Pradesh. For the latest
updates on the Himachal Pradesh election results
, please click
here
. NDTV's coverage of the Gujarat Assembly election result can be seen
here
.
Here are the highlights for the Gujarat Assembly election result 2017:
Gujarat Election Result: Who Said What After BJP Wins Clear Majority In Gujarat Assembly

Vijay Rupani, Gujarat Chief Minister: "BJP's victory in the Assembly elections showed people's unshakable faith in the agenda of development, caste-less and classless society. I acknowledge with humility people's verdict who have voted for BJP and reposed faith in the politics of good governance - a dominant theme flourished by Prime Minister Modi on the Indian political landscape."

Manohar Parrikar, Chief Minister of Goa spoke about newly-elected Congress chief Rahul Gandhi: "In his opening innings he has scored a zero".

Nirmala Sitharaman, Defence Minister: "Undoubtedly, a major victory. The kind of work which Party workers have done right from booth workers level till PM's level, everybody put their best foot forward. People of Gujarat have recognised the good work going on in the state."

Smriti Irani, Union Minister: "It is a matter of happiness for us, this is the victory of development. Jo jeeta wohi sikandar. It is victory of every booth worker's hard work & the people who trusted development".

Yogi Adityanath, Uttar Pradesh Chief Minister: "I had already said this would happen. A change of guard in the Congress leadership will be a good sign for the BJP. That aside, people have rejected divisive politics of Congress, this win is due to the dynamic leadership of BJP and the hard work of BJP workers".

Nitin Gadkari, Union Minister: "All sections of society have voted above caste politics. This is a win of development politics of the Prime Minister. In Gujarat, OBC, patidar, dalit all were used for caste politics by the Congress but caste politics could not get success. People have approved of our policies and work done under the leadership of Prime Minister Narendra Modi and his development agenda. As far as Rahul Gandhi is concerned, after he became Congress president, he has lost Himachal Pradesh and could not bring the Congress in power to Gujarat."

Vasundhara Raje, Rajasthan Chief Minister: "The people of Gujarat have once again voted for development. They once again reposed faith in the BJP leadership. It shows there is no alternative to the BJP in the country.

Ashish Shelar, Mumbai BJP chief: The election results have proven that the 'bullet train' of development, under PM Modi's leadership, has emerged victorious. The opposition, which violated all campaign norms have been shown their place by the people."