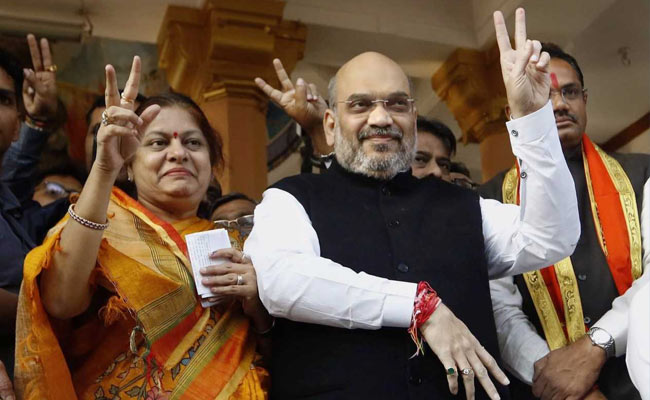 Highlights
Gujarat ends voting today in high-stakes battle for PM's home state
Arun Jaitley, Amit Shah, PM Modi all vote today
BJP chief visited temple after casting his vote
Ahmedabad:
A litany of high-profile VVIPs were seen standing in line today to
vote in Gujarat
.
This morning, BJP chief
Amit Shah voted
at a booth in Ahmedabad along with his wife, Sonal, and his son, Jay Shah, who was at the centre of a controversy 2 months ago over allegations of crony capitalism that he has emphatically denied.
Mr Shah, 53, voted in an area that he has long links to - in the 80s, he was assigned, in the BJP tradition, of managing a booth in the same precinct. Booth managers are tasked with ensuring party supporters are contacted ahead of the election to ensure they show up on voting day. Booth managers along with polling agents also watch for any irregularities during voting and alert election officials to any problems on behalf of their party. They comprise the crucial advantage in sheer manpower that the BJP boasts over the Congress Party.
Mr Shah then represented the same area (Naranpura) in the Gujarat assembly for several years before he was elected to the Rajya Sabha in August.
Jagdish Desai manages the area for the BJP now. "Yes, Amit Shah and I used to be colleagues," he recalled. "Just 25 years ago he was booth in-charge which is a very crucial role. Every booth has 750-900 voters and his job is to ensure they all come out and vote."
After voting, the BJP chief said the famous Gujarat Model of Development which evolved during the three terms of Narendra Modi as Chief Minister, is appreciated across the country. "The people should vote in large numbers to give a befitting reply to those opposing the Gujarat model," he said.
He then went to a temple with his family members.
Gujarat voted for nearly half its 182 seats on Saturday; today is the second and final day of voting; results will be declared on Monday.
The BJP has governed Gujarat for 22 years in a row. The campaign this year for the opposition has been led by Congress President Rahul Gandhi and has involved acrid attacks and counters. Prime Minister Narendra Modi has alleged that senior Congress leaders including former premier Dr
Manmohan Singh
colluded with Pakistani officials at a dinner event in Delhi earlier this month in an attempt to influence the Gujarat result. The Congress' epic own-goal was its leader,
Mani Shankar Aiyar
, referring to the PM as
"Neech"
(lowlife), after which he was suspended from the party.