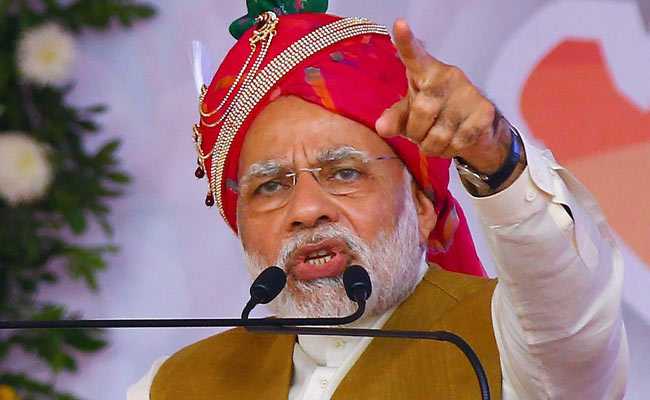 Ahmedabad:
The Congress today termed as "baseless" Prime Minister Narendra Modi's allegation that its top party leaders recently met the Pakistani envoy and an ex-Pakistani minister and said he made the charge as he was worried about the BJP's impending defeat in Gujarat Assembly elections.
PM Modi told an election rally today that suspended Congress leader Mani Shankar Aiyar had called him
"neech"
(a lowly sort of a person) a day after the alleged
meeting of Pakistanis with top Congressmen.
"Holding the country's topmost post, Modiji is making baseless allegations. Modiji is worried, dejected, angry. Such a statement has no truth or fact, and is based on lies. Such a behaviour is unbecoming of a Prime Minister," Congress spokesperson Randeep Surjewala told reporters in Ahmedabad.
PM Modi alleged that former prime minister Manmohan Singh and Mani Shankar Aiyar had met the Pakistani high commissioner in India and an ex-Pakistani foreign minister at the residence of Mr Aiyar recently.
"The entire country knows who loves Pakistan and who has been giving protection to the separatists," Mr Surjewala alleged.
He asked PM Modi that if he planned to contest the elections on Pakistan-related issues, then he should also tell the people of Gujarat as to why he "trusted Pakistani spy agency ISI and offered it entry to Pathankot Airforce Base for investigation".
Mr Surjewala also questioned PM Modi's "unplanned" Pakistan visit to attend the wedding of former prime minister Nawaz Sharif's granddaughter, soon after "Pakistan-sponsored terrorist attacks at Gurdaspur and Udhampur".
He also alleged that the Modi government failed to arrest Pakistan-based terrorist Dawood Ibrahim's wife, who "managed to reach Mumbai from Pakistan and then fly back to Pakistan".
"We would also like to ask him as to why no action was taken against former minister in the BJP government in Maharashtra Eknath Khadse, who was removed after Indian agencies taped his conversation with Dawood Ibrahim," he said.
The Congress spokesperson also claimed Maharashtra minister Girish Mahajan attended the marriage of Dawood Ibrahim's daughter and asked why 11 BJP leaders, including the head of Madhya Pradesh's IT cell, were arrested for "spying for ISI".
Mr Surjewala also sought an apology from the Prime Minister and the BJP over the release of Pakistan-based terrorist Maulana Masood Azhar by taking him and two others to Kandahar after the hijacking of an Indian Airlines plane in 1999.