Highlights
The app enables users to cross check bills for GST levied
Called the GST Rate Finder, the app was created by CBEC
The app is currently available only on android phones
The much awaited GST or goods and services tax became a reality on July 1, 2017. Amid efforts by the government towards a smooth, lag-free transition to GST, the Central Board of Excise and Customs has released a mobile app - called GST Rate Finder. Currently available on Android smartphones, the GST Rate Finder app enables users to find out the new tax rates on several goods and services and cross check their bills on the go. Here are some of the facilities the GST Rate Finder app provide and how to use them.
Since thousands of products and services have been placed under different tax slabs under GST, accessing information about a particular item can be a tedious task. However, GST Rate Finder simplifies this to some extent, according to some tax experts.
Here's how you can use the GST Rate Finder app:
Once on the main menu, a user can choose from five options including Quick Search, Tax Rates-Goods and Tax Rates-Services.
For example, in the 'Quick Search' section, you can type in the desired item to proceed.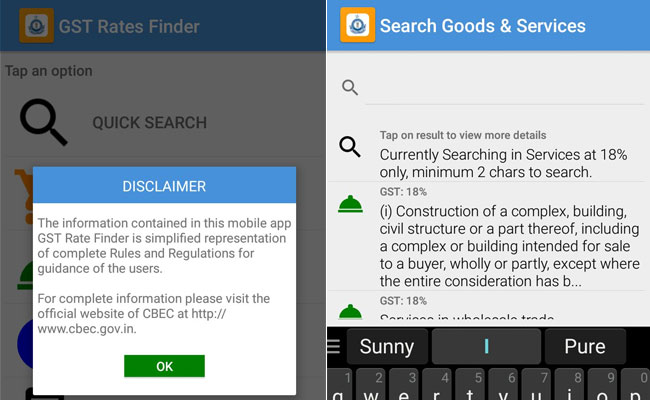 Clicking on a search result gives a brief description of that item.

For example, the app enables users to cross check components of a bill presented to them at a hotel or a restaurant.
Information contained in GST Rate Finder is a "simplified representation of complete Rules and Regulations for guidance of the users," according to a disclaimer by the CBEC displayed on the app. For complete information, please visit the official website of CBEC at cbec.gov.in, it adds.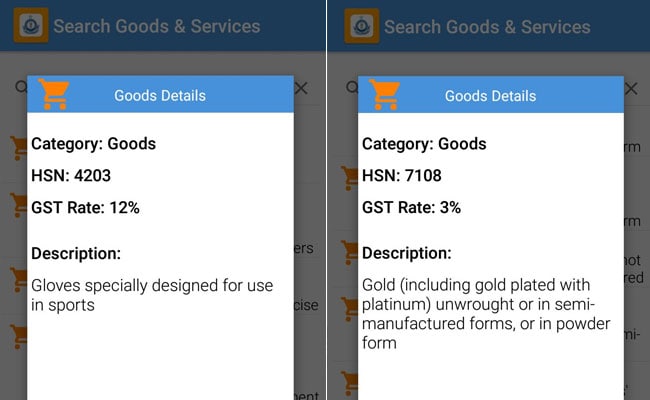 Here are few other things to know about the GST Rate Finder app:
The app works in offline mode as well.
GST Rate Finder will be available soon on Apple Store - for iPhone users, CBEC said.
Users can cross check their hotel or restaurant bills against the GST rate charged.
The app is one of the initiatives from the government aimed at creating public awareness and also serving as a ready reckoner on GST rates.
The CBEC, under the purview of the revenue department, has also provided a link to the GST rate finder app on its portal - cbec-gst.gov.in. Also, various helplines and accounts on social media networks have been opened to provide assistance on queries related to GST.