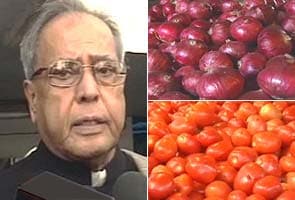 Mumbai:
Finance Minister Pranab Mukherjee today said onion prices have moderated by Rs 10-15 per kg after the government took steps to augment supply of the vegetable, whose rates had skyrocketed to Rs 80/kg last month.
"(Onion) Prices have come down, however, by Rs 10-15 per kg. There is a mismatch between demand and supply... have requested the Chief Ministers to collectively keep prices in check," Mukherjee told reporters here.
The retail prices of onion had touched a peak of Rs 70-85 per kg on December 22, 2010 due to sluggish supply in the wake of crop damage in Maharashtra due to unseasonal rains.
However, prices declined after government took steps by I-T searches on traders and by removing the import duty and facilitating more import of the vegetable. However, the efforts suffered a setback after Pakistan banned onion exports to Attari-Wagah land route.
Mukherjee said there is a big difference in wholesale price and retail price of onion, adding, that I-T raids in the premises of different traders have also helped in reducing prices.
There has been a "dip in onion prices in some states after I-T search", he said.
However, Pakistan has refused to export onions to India through road, which may blunt the impact of customs duty removal.
Mukherjee said the Centre alone cannot reduce the prices, and the help of states is required to check them.
"A crisis cannot be checked by the central government alone...PDS (Public Distribution System) to be revamped by the state government," Mukherjee said.
Yesterday, the Finance Minister had written to all Chief Ministers to take steps to crack down on hoarders and remove supply bottlenecks in onions.
On hardening of international crude oil prices, Mukherjee said a balance has to be struck between moderating inflation and reducing losses of oil PSUs because of high global crude rates.
"The crude has increased to USD 92 per barrel, naturally there will be an impact on OMCs (oil marketing companies)... At the same time there is inflationary trend, cannot allow PSU OMCs to suffer due to under recovery," Mukherjee said.
International crude oil prices have hardened to over USD 90 per barrel and an increase in prices of petroleum products will further spike inflation.
Petroleum products along with electricity and other energy items contribute over 14 per cent to inflation.
The state-owned oil firms are likely to incur a revenue loss of Rs 72,812 crore this fiscal on selling diesel, LPG and kerosene below cost.