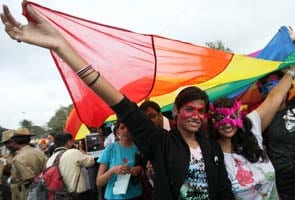 New Delhi:
A major miscommunication between the Government and its top law officers played out in the Supreme Court today.
The homosexuality debate gained centrestage again when the Additional Solicitor General, PP Malhotra, told the Supreme Court that the Home Ministry believed gay sex was unnatural and caused AIDS.
"Gay sex is highly immoral and against social order and there is high chance of spreading of diseases through such acts," Mr Malhotra contended before a bench of Justices GS Singhvi and SJ Mukhopadhaya. "Our Constitution is different and our moral and social values are also different from other countries, so we cannot follow them," he said, adding that societal disapproval of gay sex is a strong enough reason to criminalise it.
When it was reported by the media, the Home Ministry quickly distanced itself from the Additional Solicitor General's statement, saying it wasn't their position on homosexuality. The ministry clarified that it had, in fact, decided not to challenge the 2009 order of the Delhi High Court decriminalising homosexuality.
"If any other party to the case prefers an appeal, the Attorney General may be requested to assist the Supreme Court to examine the matter and to decide the legal questions involved," said a government statement.
In court today, the Additional Solicitor General quoted studies to tell that homosexuality is spreading diseases. The court asked the ministry to find out how many AIDS victims in India are homosexuals.
The Ministry of Home Affairs had taken a similar stand in the Delhi High Court, which had in 2009 ruled to decriminalize gay sex between consenting adults in a landmark judgement. The Ministry of Health and Family Affairs had opposed the Home Ministry's stand then, and is yet to argue in the Supreme Court.
The court has posted the case for further hearing on February 28.
It is hearing more than a dozen petitions against the Delhi High Court' ruling in 2009 that said, that a law in 1860 that banned homosexuality, was archaic and unconstitutional. The gay community hailed the verdict but there were also several protests. Muslim and Hindu leaders and groups campaigning for child protection said in a submission to the Supreme Court on Wednesday that gay and lesbian sex is "against God and creation."
Earlier, the bench had said that homosexuality should be seen in the context of changing society as many things, which were earlier unacceptable, have become acceptable with the passage of time. The judges had referred to the recent phenomena of live-in relationship, single parenthood and surrogacy.
Section 377 (unnatural offences) of the Indian Penal Code, adopted in 1860, makes gay sex a criminal offence entailing a maximum punishment of life imprisonment. Prosecutions were rare, but gay activists said the police used the law to harass and intimidate homosexuals.