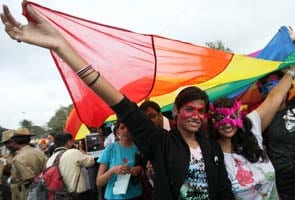 New Delhi:
The government today clarified its position on the issue of gay rights after the Additional Solicitor General told Supreme Court that homosexuality is immoral, against nature and that it spreads AIDS.
The Home Ministry later clarified that it will not challenge the Delhi High Court order decriminalising homosexuality. "If any other party to the case prefers an appeal, the Attorney General may be requested to assist the Supreme Court to examine the matter and to decide the legal questions involved," said a government statement.
In court today, the Additional Solicitor General P P Malhotra quoted studies to tell that homosexuality is spreading diseases. The court asked the ministry to find out how many AIDS victims in India are homosexuals.
The Ministry of Home Affairs had taken the same stand in the Delhi High Court, which had in 2009 ruled to decriminalize gay sex between consenting adults in a landmark judgement. The Ministry of Health and Family Affairs had opposed the home ministry's stand in the High Court and is yet to argue in the Supreme Court.
The country's top court is hearing more than a dozen petitions against the Delhi High Court ruling of 2009, that said that an 1860 law that banned homosexuality was archaic and unconstitutional. The gay community hailed the verdict but there also were many protests. Muslim and Hindu leaders and groups campaigning for child protection said in a submission to the Supreme Court on Wednesday that gay and lesbian sex is "against God and creation."
Homosexuality became illegal in India after 1860 under a statute introduced by British colonial rulers that banned "carnal intercourse against the order of nature." Conviction carried a fine and maximum 10-year jail sentence. Prosecutions were rare, but gay activists said the police used the law to harass and intimidate homosexuals.