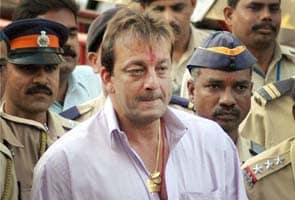 New Delhi:
With Press Council of India (PCI) chief Justice Markandey Katju asking the Maharashtra Governor to pardon film star Sanjay Dutt in a case related to the 1993 Mumbai blasts, the government today indicated that the matter will be looked into and an "appropriate" decision taken once such a plea is made by the actor.
"Governor will use his discretionary power when there will be an appeal to him. He has the power to pardon. We should not comment on it," Law Minister Ashwani Kumar said.
Information and Broadcasting Minister Manish Tewari said the authorities will take cognisance of the matter at the appropriate level.
"Justice Katju has been a very eminent judge of the Supreme Court. Whenever he articulates a position on an issue, people both inside and outside the government listen to it carefully," Mr Tewari told reporters outside Parliament.
"But there are various aspects to the issue and I am sure that those people within the government, whether at the state government or level of various other instrumentalities of government, who are seized with the responsibility of dealing with the issue, take cognizance of the statement and then, if required, formulate an appropriate response and then come back," he said.
In a letter to Maharashtra Governor K Sankarnarayanan, Justice Katju sought pardon for Mr Dutt, whose five-year sentence was upheld by the Supreme Court in an arms case related to the 1993 Bombay blasts.
Mr Katju sought pardon for Mr Dutt under Article 161 of the Constitution, saying the actor had not been found guilty of playing a role in the serial blasts and had suffered a lot.
(Read: Justice Katju's letter to Maharashtra Governor)