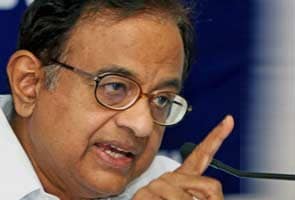 New Delhi:
Despite opposition from many ministries, Finance Minister P Chidambaram has approved a note on the proposed National Investment Board (NIB) or a Cabinet Committee on Investments (CCI) which will expedite projects over Rs 1,000 crore by setting timelines for concerned ministries.
The note was expected to be taken up by the cabinet today but it was postponed till the next meeting.
Many have raised objections to this proposal, say sources. The defence ministry has said timelines are not feasible where matters of national security have to be considered. The Ministry of Mines feels it will lead to legal complications, While the environment ministry has reiterated that such a plan is ill-conceived and not likely to meet achieved objectives
However the note Mr Chidambaram has approved reportedly makes a strong case for calling it the National Investment Board (NIB) as people are already familiar with the nomenclature, and it would have acceptance among investors. The note also suggests that the Prime Minister should be the chairman of the board and should nominate other members.
Once the NIB is set up, the current cabinet committee on infrastructure is likely to be dissolved.
Replying to a question in the Lok Sabha last week, the Finance Minister had said there were over 100 projects, each involving investment of Rs. 1,000 crore or more, that have been delayed for various reasons.
"The main purpose is to oversee and monitor large projects which will give a fillip to India's economic growth. Our problem is not conceptualising projects. Our problem lies in getting numerous clearances and getting the project off the ground within a reasonable time," Mr Chidambaram said.
He also said that similar arrangements were in place in countries like Japan, Indonesia, Malaysia and Thailand. "It will monitor projects, advise ministries and help ministries concerned take a decision," he said.
The proposed body will not be a substitute for the Foreign Investment Promotion Board (FIPB), the Finance Minister had clarified.
In early October, Environment Minister Jayanthi Natarajan had written to the Prime Minister, strongly objecting to the Finance Minister's proposal to set up the NIB. NDTV had accessed Ms Natarajan's letter to Prime Minister Manmohan Singh, in which she asked him to intervene, and wrote, "This concept is unacceptable. The NIB has no constitutional authority to decide on the failure of any minister... when the Minister of a Ministry takes a decision, there is absolutely no justification for an NIB to assume his/her authority. Nor will the NIB have the competence to do so."

(with inputs from Agencies)