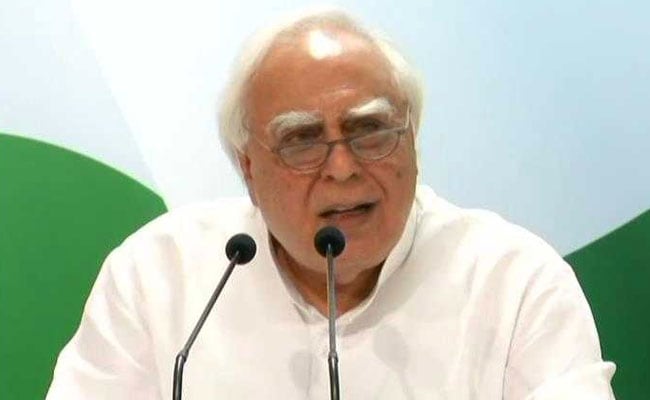 New Delhi:
The Congress today accused the government of attacking institutions and attempting to install people having RSS ideology in the judiciary. Congress leader Kapil Sibal alleged that while the BJP has already appointed RSS 'pracharaks' in key positions in educational institutions of the country, it is now attempting to instal RSS pracharaks or people of their thinking in the judiciary.
"They have filled educational institutions with RSS pracharaks. Now they are making attempts to fill the judiciary with RSS pracharaks or people with their thinking," he said.
The former law minister said, "This is not acceptable to us and will oppose it. If need be, we will also raise this issue with the judiciary."
He alleged that every institution in the country was under attack and attempts were being made to control the media and the judiciary.
"If this happens, democracy will be weakened," he said.
"This government's thinking is to control the judiciary, as it feels the judiciary is going out of its control," he said, and cited a letter written by Justice Chamleshwar of the Supreme Court, raising concerns over direct intervention of the central government in the judiciary.
He said it is for the first time that the central government has written directly to the Karnataka chief justice, instead of writing to the Chief Justice of India.
"Slowly every institution in the country is being attacked under this government...The prime minister has first ruined the institution of Parliament and now the media and the judiciary. This government is continuously attacking the judiciary...," he said.
Mr Sibal also alleged that the government was doing "selective appointments" in the judiciary by according approval to appointment of people of their choice and putting the rest in the cold storage.
This, he said, is the reason behind huge vacancies in various courts of the country.
To a question on his alleged dubious business dealings with a person who was being investigated for money-laundering, Mr Sibal said, the website that Union minister Smriti Irani referred to back her allegations, also clearly states that "there is no evidence to suggest Sibal interfered in Goyal's Case".
The minister was ignoring this, he said.