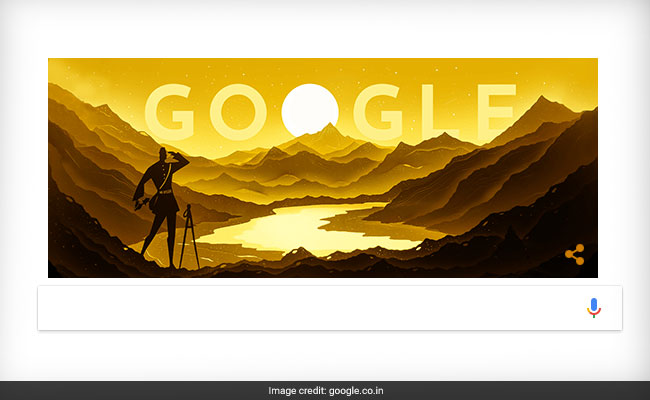 New Delhi:
Google Doodle today celebrates the birth anniversary Nain Singh Rawat, one of the first pundits to explore the Himalayas for the British. Born in 1830, Nain Singh Rawat hailed from Johar Valley of Kumaon in present day Uttarakhand.
Nain Singh Rawat mapped the trade route from India through Nepal to Tibet and a major section Tibetan river Tsangpo. Nain Singh Rawat was the first to determine the location and altitude of Lhasa.
Nain Singh Rawat belongs from the Milam village in valley of Johar, at the foot of the Milam glacier where the river Goriganga river originates. The famed Bhotia explorers mostly belongs from this region.
After passing out of school, Nain Singh Rawat visited different places in Tibet with his father, learned the Tibetan language, customs and became familiar with the Tibetans. This knowledge of local customs and language helped Nain Singh Rawat in becoming an explorer.
In 1855, Nain Singh Rawat was recruited by German geographers the Schlagintweit brothers. His first exploration trip with the geographers was between 1855 and 1857. During this time Nain Singh Rawat travelled to Manasarovar Lake, Rakas Tal and further to Ladakh and Gartok.
In 1863, Nain Singh Rawat with his brother Mani Singh Rawat were sent for a training in Dehradun which went on for two years. At the Great Trignometric Survey office Nain Singh Rawat and his brother recieved training on the use of scientific instruments and ways of measuring and recording.
In 1865, Nain Singh Rawat travelled nearly 2,000 km from Kathmandu to Lhasa and then to Manasarovar Lake and finally back to India. Nain Singh Rawat's last and greatest journey was from Leh in Kashmir to Assam via Lhasa in Tibet.
Describing Nain Singh Rawat, Google Doodle said: "Disguised as a Tibetan monk, he walked from his home region of Kumaon to places as far as Kathmandu, Lhasa, and Tawang. He maintained a precisely measured pace, covering one mile in 2000 steps, and measured those steps using a rosary. He hid a compass in his prayer wheel and mercury in cowrie shells and even disguised travel records as prayers."
Nain Singh Rawat died of heart attack while visiting Jagir, a village gifted to him by the British, in 1895. He was honoured with several awards from the Royal Geographical Society.
Today's Doodle is a silhouette diorama illustration, portraying Nain Singh Rawat as he might have looked on his travels - solitary and courageous, looking back over the distances he had walked, rosary beads in hand, and staff by his side, Google said. The Google Doodle is created by Hari & Deepti Panicker.