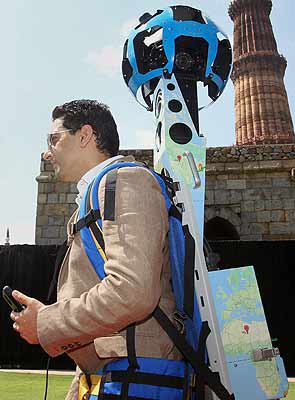 New Delhi:
Archaeological Survey of India and Google India have embarked together on a "monumental journey" to usher in, what possibly will be "digital tourism" in the country.
After bringing iconic global landmarks like France's Eiffel Tower, America's Grand Canyon and Japan's Mt Fuji, among others, alive on the Internet through its immersive "visual walkthroughs", Google has now commenced work on putting 100 major Indian monuments and sites in that league.
Once completed, architectural icons like the Taj Mahal, Humayun's Tomb, and heritage wonders such as Khujuraho, and Ajanta and Ellora Caves, among others, will "visually explode" on the Internet in a "360-degree panoramic imagery".
"We wanted enhanced and an active experience for our (virtual) visitors and not just mere passive viewing of the sites. And, that's why we want to partner with agencies like the ASI, UNESCO, World Monuments Fund to source authoritative content - current and archival to enrich user's experience," Google Cultural Institute Director Amit Sood told PTI.
Archaeological Survey of India (ASI) under the Ministry of Culture has prepared a "tentative list" of the 100 monuments and Google would keep on executing them, "as and when the names get cleared."
The Internet giant recently signed a memorandum with the Ministry in this regard at the Qutub Minar complex, which would see the company creating the application using its 'Street View Trekker' technology for the first time in India.
"Eiffel Tower, Grand Canyon, Mt Fuji, etc have all been immersively mapped on to our GoogleMaps and can also be seen on the World Wonders site, part of our Cultural Institute. Indian monuments too will be available there once we go live," Sood said.
At the launch, a preliminary walkthrough of Qutub Minar was shown, and a Google employee also gave a demo of the 'Street View Trekker' by walking on the manicured lawns, with the gadget strapped to his back.
Google India said it saw the opportunity as a happy marriage between "5,000 years of Indian history and 20 years of internet history" and an opportunity for "digital preservation" of collective heritage.