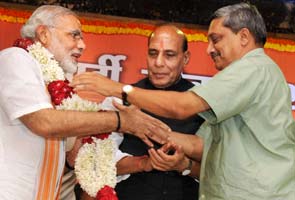 Panaji:
Goa has a special place in my life, BJP's man of the moment
Narendra Modi
said today, shortly after being appointed chairman of the party's election management committee.
(Read)
The appointment makes Mr Modi the face of the Bharatiya Janata Party (BJP) for the 2014 Lok Sabha polls, for which he credits Goa and the luck which the coastal state seems to accord him.
"Goa has a special place in my life. The papers also say that Goa is lucky for Modi.
"This is the same Goa which, in 2002, gave me the go-ahead to serve Gujarat," Mr Modi said, recalling that year's BJP national executive meeting, which had served as a political springboard for his success.
The Gujarat Chief Minister was speaking at a meeting of state party office-bearers in Taleigaon, near Panaji.
(Pics from Goa conclave)


The 2002 meet had been held against the backdrop of the post-Godhra riots where Mr Modi was under fire from both the opposition as well as a section of the BJP, some of whom were keen on him quitting the chief minister's post.
It was party stalwart LK Advani's decision during the BJP meeting in Goa then to back him that helped Mr Modi retain his chair. A fact he acknowledges even now.
"If Goa had not given me the permission, I would not have been able to serve in Gujarat. Goa has given me blessings," he said.