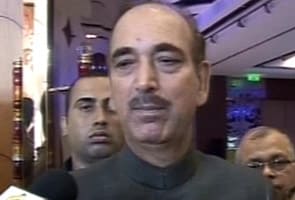 New Delhi:
Perhaps one of the biggest talking points today were Health Minister Ghulam Nabi Azad's extraordinary words where at a HIV seminar he implied that homosexuality was a disease, and that gay sex was unnatural. Today, he clarified his words saying he had been misquoted.
"I am sorry if I have hurt feelings of any section of the society. During my speech I used technical words. I kept myself very clear, didn't use the word homosexual or gay. The subject was HIV, used man having sex with man in Hindi for contracting HIV. It was interpreted as man having sex with man as a disease. I didn't use the word gay at all!" he said today.
Health Minister Ghulam Nabi Azad stirred a controversy when he implied that homosexuality was a disease.
"Unfortunately this disease has come to the world and in our country in which a man has sex with a man. It is very unnatural and this should not happen, but in our country the numbers are increasing. It's difficult to find them because you don't know who is doing it and where they are," he had said. (
Read: Ghulam Nabi Azad calls homosexuality 'unnatural' and a 'disease'
)
These remarks does not answer why the Health Minister of the world's largest democracy believe that homosexuality is a disease? That a man having sex with a man is unnatural? It contradicts even his own ministry's policy to back the decriminalisation of gay sex in India.
More importantly, why did he make such an unqualified statement at a HIV/AIDS Conference at Vigyan Bhavan in New Delhi?
"He could have used the opportunity to actually set a future agenda for the agenda. But he set it back by 10 years by making this statement," said Anjali Gopalan, Executive Director, Naaz Foundation.
Already a huge outrage has built up over the Health Minister's statements because health workers, activists and gay groups feel he reflects a sexual prejudice that makes people with alternate choices doubt his ability to take care of them.
"India should be proud to have such an enlightened Health Minister. No wonder we have the best HIV record in the world!" said writer Vikram Kapoor.
Azad's retraction has come but some would say it's much too late, both for the Congress' liberal face and Ghulam Nabi Azad's credibility as Union Health Minister.
It even dents our country's image as proven by author Taslima Nasreen's tweet, "No sane person would say, homosexuality is a 'disease'. But anything can happen in Incredible India."