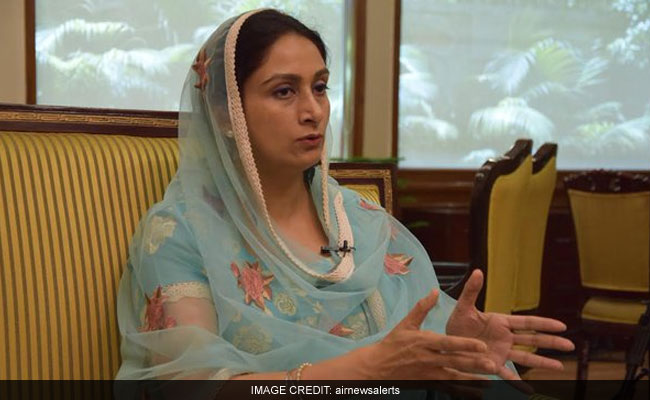 Bathinda, Punjab:
Shiromani Akali Dal leader Harsimrat Kaur Badal today hit back at Punjab Chief Minister Amarinder Singh over his remark that protests against her were a reflection of the people's "wrath" at being "victimised" by the Badals, who ruled the state for a decade.
Ms Kaur had earlier complained of inaction on part of the state police in dealing with "anti-social" elements at her campaign rallies in her constituency, Bathinda. On Saturday, she staged a dharna in Bathinda, claiming the disruption of her meeting by a farmers union, Bargari Morcha, happened despite prior information to police about a Congress conspiracy.
In a statement, the Punjab Chief Minister said, "The fact that Harsimrat was prevented from entering a village in her own constituency only showed that ''karma'' was catching up fast with the Badals".
Ms Kaur, who is the Union Cabinet Minister of Food Processing, issued a sharp response to Mr Singh's comments on Twitter: "Height of arrogance @capt_amarinder. Pot is calling the kettle black. You stage manage "spontaneous" protests. You direct police to help sarkari protesters, then turn around & talk about karma. Wait till May 19. You will be justly punished for attempting to divide Sikh community."
She also alleged a "total collapse of law and order in Bathinda".
Although Bathinda has voted SAD in each of the last three Lok Sabha polls, issues like the desecration of the Guru Granth Sahib in 2015, which occurred during SAD rule, and farmer loans and suicides are seen to have contributed to an anti-incumbency factor.
Ms Kaur also questioned what the Congress state government has done in the last two years.
"@capt_amarinder wish you would visit ONE village in Bathinda & ask people what I did for them. Rest pl don't tell lies about performance. Did you waive off farm loans or gave #GharGharNaukari or Unemployment allowance? You did nothing but preside over corrupt & oppressive govt," she tweeted.
The Congress government had committed to providing debt relief to over 10 lakh farmers.
Prime Minister Narendra Modi and the BJP have attacked the state government on the issue, alleging that Mr Singh's government has deceived farmers.
Bathinda is one of 13 Lok Sabha seats in the state. Voting in the constituency, and the rest of the state, will take place on May 19 during the seventh and final phase of polling. The counting of votes will take place on May 23.
With inputs from PTI