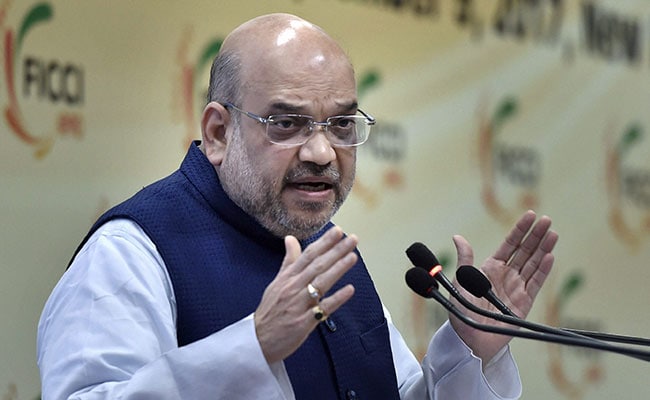 Highlights
Mr Shah said GDP growth rate went up to 7.1 per cent under NDA
He said under UPA it was at 4.7%
Earlier Arun Jaitley had said that the dip 'is a matter of concern'
New Delhi:
Playing down the
fall in GDP growth rate in the last quarter to 5.7 per cent
, BJP chief Amit Shah today said it was due to "technical reasons", news agency PTI reported.
Speaking at a meeting of industry body FICCI in New Delhi, the BJP president said the GDP growth rate had gone up to 7.1 per cent after falling to 4.7 per cent in 2013-2014 when the Congress-led UPA was in power at the Centre.
"The Modi government has changed the way GDP is looked at as it is not only limited to production, services and infrastructure but also includes improving overall quality of life and social capital," he said.
"Giving LPG connections to the poor, bringing electricity to every household, linking everybody with bank accounts and building new toilets also help the GDP grow," he added
Under the Congress-led UPA coalition government, the GDP was 4.7 per cent, the current account deficit rose to 5 per cent and there was double-digit inflation, while the administration in its 10-year rule was riddled with scams and hit by policy paralysis, Mr Shah said. The UPA government, however, in its
end-of-term report card had said India's economy grew at 7.7 per cent
on average under it.
GDP or gross domestic product growth fell to a three-year low of 5.7 per cent in the April-June quarter. The economy had expanded at 6.1 per cent in the March quarter and at 7.9 per cent in the April-June quarter last year.
The July 1 launch of the goods and services tax (GST) and a lingering impact of demonetisation hurt the June quarter GDP numbers, economists had said.
Finance Minister Arun Jaitley had said that the June quarter data "is a matter of concern".
While speaking at the event, Mr Shah also touched upon the issue of banks' non-performing assets (NPA), seen as a drag on the economy, saying the Narendra Modi government had inherited these bad loans and none of them happened during its tenure.
"The issue is looked politically. But I want to make it very clear that none of these loans which turned NPAs were offered during our government. Opposition targets us saying so many accounts have turned into NPAs. But not a single account is from our time. We have inherited it," he said.
"Some critics of our government claim that development has stalled but I would like to tell them not to look at statistics but travel around to find development," Mr Shah said.
(With Inputs From PTI)