Pune:
It was another reeking morning for millions of Pune residents with piles of uncollected garbage continuing to litter their city - as it has for the last two weeks since villagers near the main landfill refused to let their homes become a dumping ground.
Ironically, as they grappled with another day of a growing civic crisis, union Urban Development Minister M Venkaiah Naidu was announcing the list of India's cleanest cities in faraway Delhi.
With Mayor Mukta Tilak in Mexico and Pune District Guardian Minister Girish Bapat in Australia, there was little hope of the impasse, embodying the global urban crisis of waste management and collection, being resolved.
Swachh Bharat could only be a distant dream for those in Pune and the twin villages of Uruli Devachi and Phursungi, about 25 km from the city, who dug in their heels about two weeks ago and refused to allow dumping of garbage in the depot located near their homes.
The sprawling depot is where Pune dumps tons of garbage every day. The site also houses waste disposal and treatment plants.
The city generates 1,600 tons of garbage everyday, of which 1,000 tons is treated within city limits, while the rest is taken to the site near the twin villages, civic officials said.
The villagers, who have complained that their health was getting adversely affected by the dumping, had yesterday staged a protest and taken out a symbolic funeral of the garbage yard managed by the Pune Municipal Corporation (PMC).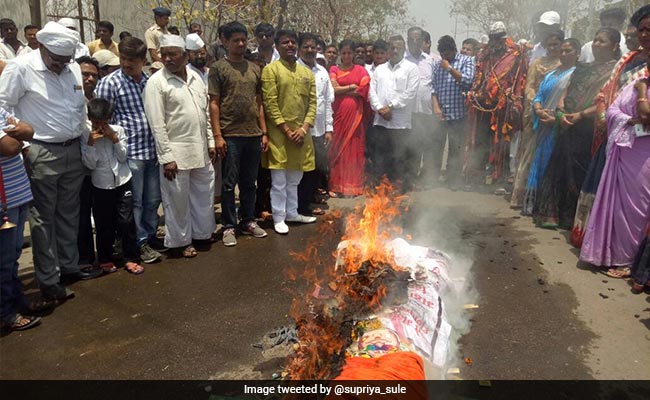 Amongst those participating in the protest was Nationalist Congress Party (NCP) MP Supriya Sule.
Seeking Maharashtra Chief Minister Devendra Fadnavis' intervention to resolve the deadlock and safeguard the health of the villagers, she said decision makers were on foreign trips at a time when people were suffering.
"I have written a letter to the mayor and also tagged (on Twitter) the chief minister and sought his intervention," she told reporters.
"The villagers are ready to talk to the administration, but no one is ready to come here and listen to them," the MP claimed.
Workers of the Maharashtra Navnirman Sena (MNS) had also staged a demonstration outside the mayor's home.
The problem had started after a fire broke out at the garbage depot. Though the blaze was brought under control, villagers complained of toxic fumes emanating from the site and causing health problems.
About two weeks ago, they launched an agitation and stopped trucks carrying garbage from the city to dump the waste at the site.
The villagers have been demanding that the civic administration shift the depot. The continuous dumping of garbage had polluted the groundwater and the air and put their heath at risk, they said.
Civic Commissioner Kunal Kumar, who also visited the site on Tuesday, said the administration will soon resolve the issue.