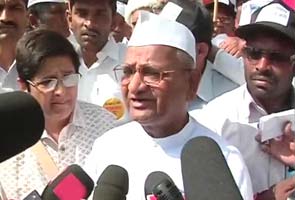 New Delhi:
94-year-old Gandhian Shambhu Dutt, who ended his fast-unto-death demanding Lokpal bill after Team Anna's promise to shoulder the campaign, says he now regrets his decision to hand over his fight to Anna Hazare and his core committee of "yes men".
Dutt, general secretary of Gandhian Seva and Satyagraha Brigade, along with his five colleagues was the first to sit on fast-unto-death on January 30 last year over the Lokpal
issue.
"Kiran Bedi and Swami Agnivesh came to us and pleaded to end our protest saying they will carry forward the protest. In retrospect, I think we should not have called off the
protest. We were more sincere in our determination," Dutt told PTI.
Slamming Team Anna, he said the core committee members were "insubstantial".
"Team Anna and particularly Arvind Kejriwal has lost the credibility in the eyes of those who know the inside story. The core committee is full of all yes men and there is no
substance in the committee. The excesses and transgresses will prove to be undoing of Hazare's campaign," he claimed.
Terming Hazare's threat to campaign against Congress in poll-bound states as "childish", he said, "Hazare keeps changing his stand. Earlier he said he would not oppose Congress. He should have waited to see what kind of bill the government is proposing before Parliament."
Dutt's organisation has submitted a memorandum on Lokpal issue to the Parliamentary Standing Committee and has rejected several proposals of the Jan Lokpal Bill.
"We supported Hazare's corruption campaign but we have objections to some of the provisions in the Jan Lokpal bill," he said.