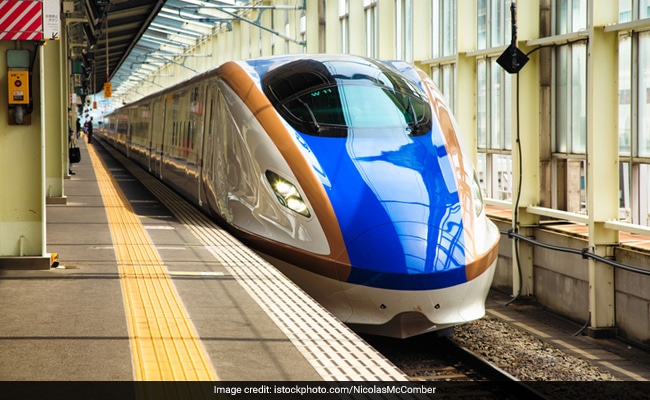 New Delhi:
The dream of India's first high-speed bullet train which would run between Ahmedabad and Mumbai is close to becoming a reality. The operations for this ambitious project will commence as soon as 2022, Union Railway Minister Piyush Goyal has said. The train will have 10 coaches, a seating capacity of 750 passengers and will leave Mumbai for Ahmedabad every 20 minutes.
The announcement was made by the railway minister on Twitter.
India Gears Up For Bullet Train: The Mumbai-Ahmedabad high-speed bullet train to commence operations from 2022. The train will leave every 20 minutes from Mumbai to Ahmedabad and have 10 coaches with the seating capacity of 750 passengers. pic.twitter.com/OMDko6xwuI

— Piyush Goyal Office (@PiyushGoyalOffc) March 27, 2018
The high-speed bullet train aims to reduce the travel time from Mumbai to Ahmedabad to just three hours. It currently takes seven hours to cover the 500 kilometre journey by train.
The bullet train will halt at 12 stations.
The land for the project, which was launched last year by Prime Minister Narendra Modi and his Japanese counterpart Shinzo Abe, has already been bought and the process of designing of bridges and tunnels has been initiated.
Though many are excited about the launch of this high-speed train, it has gathered a lot of criticism too, especially from opposition parties.
The biggest attack, though, from came from BJP ally Shiv Sena, following the stampede on the foot over-bridge linking Elphinstone Road and Parel suburban stations in Mumbai in September last year.
"How come the central government didn't have money to spend on a bridge used by poor commuters but gave Rs. 30,000 crores in one day" for the bullet trains," the Sena had said.
As a comeback to those opposing the project, Prime Minister Modi had said "those opposing the bullet train project should travel on bullock carts."